Looking for simple work at home business ideas? Then you should definitely check this out! First let me just say thanks for dropping by, I appreciate it.  Okay, so let's get started! Here are five (5) simple work at home business ideas you can do absolutely free.
Work at Home Business Ideas
#1. Design stuff
If you like the idea of designing stuff, you can create a FREE account with Zazzle, or Cafe Press or both, and design stuff. You DO NOT have to be any great designer of sorts. All you need to do, is put your unique view or art on T-Shirts, key chains, cups, cards, invitations and a host of other items. You can then share those items with your friends and family so that they can purchase them.
When customers buy your items, Zazzle will pay you a commission. You can then use the commissions you earn to advertise your business to get more customers. And just like that, you're in business baby! With Zazzle, is like having your own free online store. Fiverr is also a cool opportunity if you are into designing.
#2. Write for others
If you like the idea of writing, you can work at home writing for bloggers or magazines, to make extra cash. There are quite a number of website owners who would love to hire freelance writers. Hire Writers, Fiverr, Freelance Writing, and Thought Catalog are just a few sites you can check out. If however, you want to write for yourself, you can create your own free website and do exactly that. All you need to do is follow the four steps below:
#3. Sell Your Photos
If you're into photography, you can sell your photos online. Places like Foap, Pixabay, and a host of other sites can make this happen for you. Online businesses, blogs, and magazines buy pictures all the time. So if you've got a camera, the selling your pictures online is a great work at home business idea.
#4. Create a Course With Udemy
If you want to create a simple course to teach people to do something, then Udemy.com is a great place to do just that and it's absolutely FREE as well. All you have to do is create the course. Udemy provides you with all you need to do that and they've got quite a number of students so it could be only a matter of time before students start accessing your course for a price. This is a  great work at home business idea with recurring passive income.

#5. Start Your Own Website
If you have a particular interest other than what was discussed here, you can create a free website for that. For example, if you have an interest in guitars, kitchen mats, cameras, iPhone cases, parenting, computer desks, etc., your website can focus on your interest. If that's something that interests you, then you can create your free website and get started right away! All you need to do is:

You can get 10 FREE lessons that would help you to understand the process of making money online and what you need to do to make your free website a success. Of course, with paid or premium membership you get access to more lessons. But you can also make money with Wealthy Affiliate as a FREE member, if you want to. So it's a win-win situation.
Wealthy Affiliate has free and paid membership options, but
Work at Home Business Ideas combined
Combining these work at home ideas can actually help you earn more money from the comfort of your home. Check out the 10 FREE lessons included in the Getting Started (Level 1).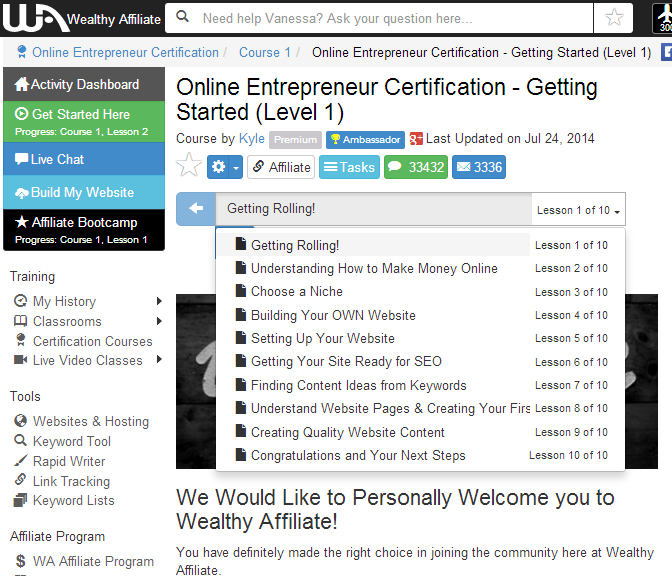 More importantly, you always have access to help and support from the wealthy affiliate community.
I am sure you will agree that help and support is an extremely important aspect for any business. We've all been there at one time or another, wanting to be served or helped, and when it's not there, we know how absolutely frustrating it can be.
But that's one thing you don't have to worry about at Wealthy Affiliate, be it technical or otherwise. Apart from Kyle and Carson (the owners), the entire community is there to help you when you need it. All you have to do is ask your question and someone would answer it in real time.
At Wealthy Affiliate, it's all about YOUR success. Think about it. Wouldn't it be great to have this kind of help and support to start your own online business for free?
Here is a personal note to YOU from Kyle and Carson, Founders of Wealthy Affiliate.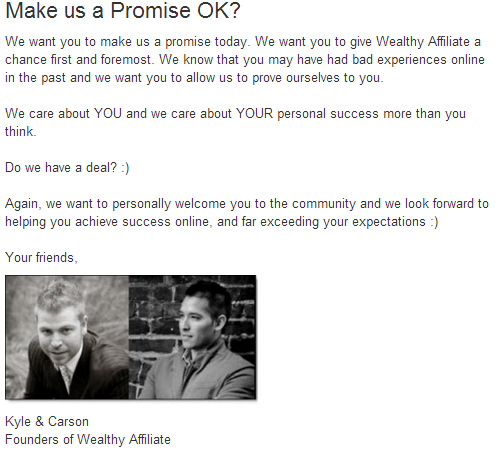 Just to reinforce the point. Kyle, Carson, myself, and the entire community at Wealthy Affiliate welcome the opportunity to help YOU become an online success.
Join us. Get started today! Become a member of Wealthy Affiliate and start your online business for free.
I hope this information was helpful. If you have any questions or comments, please don't hesitate to drop me a line in the comment section. I look forward to hearing from you.
To your success
Vanessa