Using Fitbit Wireless Activity Trackers is a great way to keep yourself fit. Working from home is really cool. But you can easily overlook the fact that you just may not be engaging in the right amount of physical activity to keep your body healthy and strong. If it's one area of our life we cannot compromise on, is our health. It is one aspect of our lives that we cannot afford to neglect.
Having good health allows us to enjoy life and our lifestyle now can affect our good health later on. Check this out. Research published by Pharmaceutical Research dated July 2008, states that "cancer is a preventable disease but it is estimated that more than 1 million Americans and more than 10 million people worldwide are expected to be diagnosed with cancer. Current statistics paint a different and scarier picture. The United Nations News Centre, in a report dated December 12, 2013, states that "global cancer rates jumped to more than 14 million last year." Yikes!
According to Pharmaceutical Research, only "5–10% of all cancer cases can be attributed to genetic defects." However, 90–95% of all cancer cases "have their roots in the environment and lifestyle." See? Now this is what I'm talking about. Lifestyle factors include cigarette smoking, diet (fried foods, red meat), alcohol, sun exposure, environmental pollutants, infections, stress, obesity, and physical inactivity."
Check out Johns Hopkins list of of health risks associated with physical inactivity: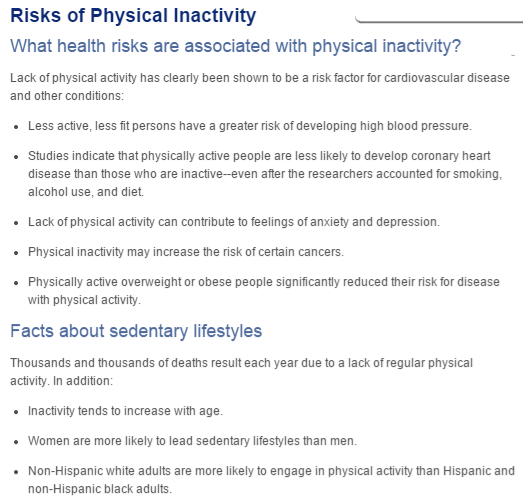 Fitbit Wireless Activity Trackers
One suggested and easy way to start dealing with that physical inactivity is to start walking. Walking helps to keep a constant circulation going throughout the body. It also helps to alleviate the impact of sitting for long hours at a time. You know, physical inactivity because you're working at a desk.
Related Article: The Benefits of Walking
I think that one thing most of us can agree on is that sometimes we don't always have the discipline to do the things that are right for us. For example, sometimes it's hard to resist having another warm moist and oh so gooey, melt in your mouth, chocolate chip cookie. Am I right? Or all the junk food when we are at the movies, or that extra slice of that Thanksgiving apple or pumpkin pie.
I am not saying that we can't splurge on occasion. But while obesity may not be an issue that some of us might face, the inactivity just might be. Think of the hours you put in at that desk without moving, the amount of television you watch in one sitting, and the amount of time you spend surfing the internet or using social media without moving around. My goodness, the hours seem to add up don't they?
Regardless of the information we are exposed to concerning an issue, sometimes we still need a little motivation to get things started. For example you could be reading this and seeing the similarities in your own life. But you still may not take action. But believe it or not, having a Fitbit Wireless Activity Tracker can help. It's a great tool to use to get yourself motivated and to encourage you to keep walking so that you can get that much needed exercise.
Activity Trackers: A Great Motivater
An Activity Tracker was actually the key to getting my sister motivated to start exercising via walking. First, her husband bought a stationary bike for exercise. But I was the first one to use it and it's not like we live that close to each other. Then she bought a trail bike and got a flat tire the first time she took the bike out. Not sure how many times she's actually gone out riding though. At this point, I think it's been less than five times.
However, the activity tracker was different, she actually used it. I think what also spurred her on was the fact that the company she works for had a steps competition going. So the activity tracker allowed her to set goals, track her steps and monitor her progress during the competition. The competition is over, but she still uses it even today.
You can use the Fitbit Wireless Activity Trackers with your family and friends. You can even compete with coworkers, or you can give it as a gift to a loved one. Being proactive about your health can ensure that you give yourself a better opportunity to stave off lifestyle diseases. A simple activity like walking can help in this respect.
So give yourself that opportunity.  If you a little motivation, then get yourself a Fitbit Wireless Activity Tracker and get on the right track to better health. Click here to get your Fitbit Wireless Activity Tracker today! It's a fitness product than can help you stay motivated and improve your health by tracking your activity, exercise, food, weight, and sleep.
Here's to better health
Feel free to share your experience about what you do to keep active. Drop me a line in the comments section. I look forward to hearing from you.
Sincerely
Vanessa