Believe it or not, there is an art to gift giving and depending on how you do this, you can hear the proverbial "You shouldn't have," "You really shouldn't have," in that particular tone of voice. I know you know what I mean. How many receipts have you kept just in case? How many sweaters have been returned?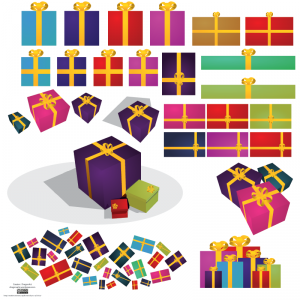 We've often heard the old adage that "It's the thought that counts," and that is indeed correct. In fact, gift giving can tell someone exactly if you were thinking of them at all, when you made your purchase/gesture.
How so? Well, I think the number one mistake people often make when purchasing a gift for someone, is not thinking of that person and not knowing what he/she might like.
It's All About The Other Person
Regardless of whether that gift is for Christmas, Valentines, a Birthday, an Anniversary, or even a Graduation, it's important to get it right. For example, some men might give their wives an appliance for an anniversary. Seriously?
While some wives might be okay with that, as it might benefit her personally to an extent, a gift like that is for the benefit of the household, and not exactly personal or exclusive to her. To me, an anniversary gift should be personal. That's all I'm saying on that matter. Moving on.
Seriously though, at times people might see something they like and automatically think that the person they are shopping for, would like it as well. From personal experience, I can tell you that that my friend is definitely not the case.
When I shop for a gift for someone, I think about what that person might like, and not what I would like for the person.
While it might be easy to ascertain what some people might like, it may not be that easy figuring out what other people might like, especially if it's someone you don't know very well, like a co-worker for whom you may have to do a gift exchange with.
In such an instance, you'll have to make an extra effort. So here are a few tips on the how to of gift giving, to help make your efforts more successful overall.
My Five Tips For You
Tip #1. If it's a work colleague, don't get personal, unless you are close to or really know that person.
My rule would be, keep it general unless you've taken the time to observe and or find out the likes and dislikes of the individual for whom you are buying the gift for.
For example, if you notice that the individual does not wear cologne there might be a reason for that. So unless you know firsthand why that is, then you are taking a chance venturing in that direction.
While there may be many reasons why an individual may not wear a fragrance or cologne, one of the top reasons is a possible allergic reaction. So like I said, if you don't know, you're taking a chance and while you may have had the best intention, your gift might not be received in that light.
Tip#2. Don't buy something that YOU like.
This is a mistake people make time and time again. What exactly do I mean by "don't buy what YOU like?" Let me illustrate from my personal experience, since this has happened to me on more than one occasion. People have bought me gifts that they liked and not necessarily what I would like. Get it?

One occasion was a gift exchange at the office. The person bought me a brooch for this gift exchange.
Now, while there are some lovely brooches out there, like the one in the picture above, I am not a "brooch person", I have never worn a brooch, nor do I think I would ever wear one, I don't know.
So what happened when I got my brooch?
When the person gave me the gift, she said to me, "I saw it and loved it so much, that I thought I'd get it for you."
In my mind I was thinking "If you loved it so much, why didn't you keep it for yourself?"
The Amethyst brooch above is lovely but to me it would not have made a difference because that's not my thing. I am just grateful that people can't read our thoughts.
I know she meant well, so under the circumstances, I graciously accepted her gift. However, my other co-workers who knew me, was onto me. They knew that I was not as enthusiastic about the gift as I pretended to be.
All of this to say, just because YOU like the gift you are about to purchase for someone else, regardless of how lovely you think it is, does not necessarily mean that the intended recipient would like it as much as you do.
Hence my suggestion, don't buy what YOU like. Which brings us to Tip #3 to make your gift giving a success.
Tip #3. Put some thought into the person and the purchase.
Think about the person, their likes and dislikes, the activities they like. If you don't know them that well, find someone who does if it's possible and ask a few questions.
For example, if it's a colleague in the office, pay attention to that person. What they talk about, can give you some insight into their likes and dislikes. Giving the right gift says so much and the "right" gift does not have to be expensive.
The "right" gift is in the eyes of the receiver, that's why you have to put some thought into what you're about to give to someone else. This works with children as well. There is nothing that deflates an adult's happiness like seeing a child getting a gift that he/she does not like. The disappointment is almost tangible.
Tip #4. When in doubt, don't discount a gift certificate.

When you are not sure what kind of gift to get someone a gift certificate is general enough to do the trick. However, you still have to put some thought into the matter. Yes.
For example, massages can be a great gift certificate, but not everyone might be into that sort of thing. Although, in some cases, some gifts can be something new for an individual to try, unless this is someone who you know is open to new experiences, then be safe and stick to something neutral, like a gift certificate to their favorite Starbucks.
A gift certificate can be general enough to allow the person to get something that would please him/her. For example, an Amazon.com gift certificate.
Amazon carries such a wide selection of items, that anyone can find that perfect gift for themselves for any occasion. You can search Amazon's selections right from my site to check out the myriad of options. Okay, so one more thought on the matter.
 Tip#5. Set limits concerning the amount of money you may want to spend.
If you're not careful, gift giving can sometimes get out of hand and expensive to say the least, especially around Christmas time.
While you may not have a limit when buying a gift for that special someone, it's a good idea to set a limit if you are buying a large number of gifts at anyone time, or doing a gift exchange at the office.
Setting a limit can have several advantages:
i. Keeping you within budget.
This is important, since you don't want to have to break the piggy bank to help with regular expenses after you've made a huge number of purchases especially if there might be a while to the next paycheck.
In this respect, you want to be wise about how you spend your money and try your best not to get carried away. As i mentioned before, fantastic gifts don't have to be expensive. What makes it fantastic is the thought that went into getting that "right" gift for the person.
ii. It creates a level playing field, especially if you are doing a gift exchange at the office or you have a large number of family members to purchase gifts for.  Setting limits ensures that no one out does the other in relation to the amount of money spent on a gift because everyone has the same limit and as such, expectations are managed.
iii. It may force you to tap into that creative side you thought you never had, and that in itself can be a new experience for you.
Let's Wrap This Baby Up!
There you have it, 5 simple and easy to use tips on "the how to of gift giving," to help you avoid hearing those dreaded phrases "You really shouldn't have" or "I hope you kept the receipt."
So whether you are shopping for gifts for loved ones this Christmas, or an anniversary, or birthday, do so thoughtfully, because it really is the thought that counts; thoughts of the person, his/her likes/dislikes and what might be pleasing to him/her, because that is what makes all the difference.
Happy shopping to all of you and be safe.
Feel free to chime in and share your own experiences with my visitors, in the comments section of my site. I look forward to hearing from you.
Vanessa