Thinking about joining Empower Network? Then you just might want to think twice about that, because Empower Network complaints have been endless! When you see how it works, you'll most likely have doubts about how legitimate it really is. But hey, you need to decide for yourself whether Empower Network is a scam or not. So here's what I'll share with you in this Empower Network review:
Making money with Empower Network 
Pros and Cons of Empower Network
Why You Should NOT join Empower Network
Empower Network Alternative
What is Empower Network About?
Name: Empower Network
Website: Empowernetwork.com
Price: $6,935.00 (if you're all in) + monthly fees ($144.00 + ewallet fees)
Owners: David Wood and David Sharpe (Sharpe recently stepped down as of May 2014)
Overall Rank: 0/100
Empower Network "is an online network marketing company that sells internet marketing tools and training", such as blogging platforms and digital products that is supposed to teach you how to make money on the internet. However, the only way you make money with Empower Network is by buying and selling their products, not really by blogging. It is a typical MLM and YOU DO NOT have your own legitimate online business.
Let's face it, who's going to say no to making extra cash on the side? But joining Empower Network is not the best way to do that.  Now, I have no doubt that people make money with Empower Network. But it's more likely the people at the top, as they continually dupe new arriving "members" into thinking that they too can be just as successful doing the same thing.
The thing is, there is no such thing as quick online cash. Even if you're gambling or playing the lottery, that in itself is not a guarantee. One thing for sure, you're likely to be the one on the losing end after making such a hefty investment. It's the same with Empower Network, since Empower Network lacks the potency of any kind of long-term success.

Empower Network Products
Launched by David Wood and David Sharpe in October 2011, the company initially started with five products. However, as at 2014, there are eight products being promoted. Do these guys know how to scam or what? Oops sorry, I mean make money.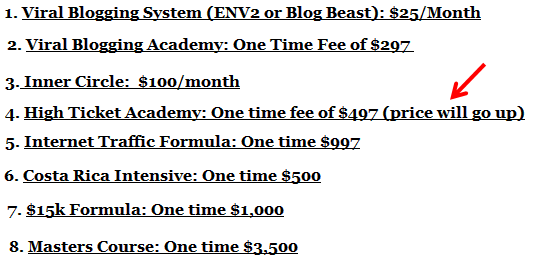 How to Make Money with Empower Network  
You make money with Empower Network by recruiting new members; the more people join, the more money the people at the top make. To add insult to injury, you have to pay to learn how to sell what you just bought, so that you can earn the commission you are paying for as an affiliate.
To me, encouraging people to part with their hard earned cash like this, just isn't right. It's clear that these individuals are in this "business" to make money, as they are simply pushing hype. You merely have to look at the different "products" being offered. For example, look at what you get with product #3, which is Inner Circle:

So basically you're selling uplifting testimonies… Uplifting testimonies of what? Have you noticed that the training is not even the focus, but rather great stories and uplifting testimonials for which you have to pay $100/ month for? How do you feel about that? What words come to your mind when you see something like this?
It makes me angry that people actually scam others like this, especially when I started my online business absolutely FREE. MLMs like Empower Network shows how selfish some people can be, and how much they don't care about others. SHAME! SHAME! SHAME!
However, the more we speak out against scam artists like these hopefully other people would become wiser and make better choices as far as making money online goes.  These people need to grow a conscious!

Empower Network's Compensation Plan
Here's Empower Network's Compensation Plan in a nutshell.
First of all, there is a $19.99/month affiliate fee that YOU have to pay in order to sell the "products" that you are buying. Seriously? You have got to be kidding me!
The diagram might look a little complicated but I've simplified for you below.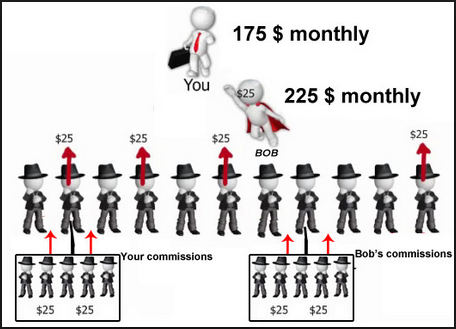 But here's what the diagram really means:
All the sales you make ARE NOT YOURS, so that 100% commission is totally bogus. Some of YOUR sales go to your "sponsor".
Additionally, you earn commissions ONLY on the products you have purchased. That means that if you brought someone in and that person upgraded to the "Costa Rica Incentive" and you are just an "Inner Circle" member, you get absolutely no commission from your person's upgrade. Hard luck! All that hard work you did to close that sale (including follow-up phone calls), that commission passes on to the next qualified person.
The funny thing is, a member of Empower Network actually called me while I was doing research for this review. But I did not entertain the call. Now that I think about it, I probably should have accepted the call, just to hear the sales pitch. Then again why waste time. Spotting  a scam is easy once you know what to look for.
Pros and Cons of Empower Network
PROS:
I don't see any. Most likely this is why there have been an increasing number of Empower Network complaints.
CONS:
Not a strategy for online long-term success
It's a MLM/PYRAMID / PONZI scheme
YOU have to promote Empower Network's products to others to make money
Insufficient training for which YOU have to spend thousands of dollars for
YOU have to PAY (a monthly fee) to be a part of Empower Network's affiliate program
YOU DO NOT OWN the blog so you don't have an online business
While you can start this for $45.00 , YOU have to be all in to make the big bucks and that's one big expense. Remember now, going all in is going to cost you upwards of $6,900.00 plus monthly fees in excess of $144.00
MLMs like Empower Network is tarnishing the reputations of legitimate online marketers
It really is a lazy MLM, since the people at the top get the benefits from the hard working people below.
Empower Network complaints keep piling up
Check out some of the comments and experiences that some individuals have had, after joining Empower Network:



Empower Network Complaints
In a nutshell, Empower Network has been referred to as a scam and the complaints have been numerous. Its MLM structure is simply an overzealous desire to make quick money online at the expense of others. Empower Network does not provide a strategy for long-term online success and it tarnishes the reputation of legitimate online entrepreneurs. A few of the Empower Network complaints are included below:




This is one time we need to learn from the experiences of others.
Is Empower Network a Scam?
All the Empower Network complaints certainly suggests that it is a scam. It's clear that something is definitely wrong with this. As a result, with all the Empower Network complaints, quite a number of people have labelled it as  Empower Network rip off and Empower Network scam. I have to say that after doing my own research I can't disagree with these labels, since I fail to see the attractiveness of MLM system. Well in all fairness, it is attractive, but more so to the people at the top. But I'd have to be out of my mind to join something like this.
With this MLM system, you only make money if there are new members coming in. That' s exactly how a pyramid works and for it to continue, the recruitment process has to be maintained. These  Empower Network complaints most likely stem from the fat that the focus is not on helping people specifically, but getting others to buy into the HYPE so that the individuals at the top can continue to fill their pockets.
Buying HYPE does not seem like a good investment to me, especially when you have to sell the HYPE to make money on your investment. That's most likely another reason why there have been an increase in the number of Empower Network Complaints.
Here is an interesting piece of information I have observed. Individuals who claim to be "ex-members" of Empower Network are encouraging you to buy their products, so that they can "work directly with you". The excerpts below are from websites of supposedly "ex-members" of Empower Network.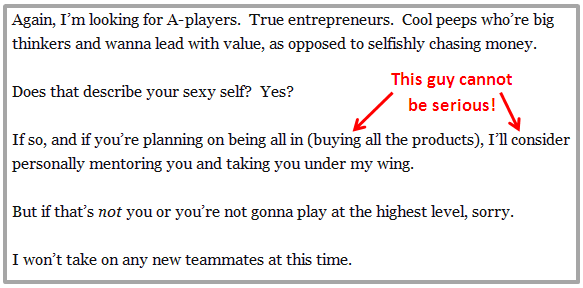 Does that make any sense to you?
Individuals who are claiming that they are no longer members of Empower Network encouraging you to buy the organization's products, so that they can help you make money with an organization they are no longer a part of? Bogus!
I don't know about you, but I am not that gullible, and I hope you are not as well.
Empower Network Alternative
If you're looking for a legitimate opportunity to learn how to get your online business started and becoming successful at it, then check out My Top Free Work at Home recommendation. Here is a little snippet of what you'll get:
Free ($0) starter membership. Click here!
Free Training on how to make money online the right way
Two Free Websites
Free Tools, and more importantly,
The Help and Support you need to become an online success
How can anyone go wrong with an offer like that?
I hope I have provided sufficient information to help you make a smart decision as far as Empower Network is concerned. I know you're an intelligent person and I have every confidence that you'll make the right decision for your benefit and eventual online success.
Feel free to share this information with your family and friends. I also want to encourage you to utilize the comment section of my site to share your own experiences and thoughts about the information I have shared here with you.
To your success