Still trying to find your keywords by trial and error? Then I wish you the best of luck. However, my little discovery is not just a free keyword generator tool, but this tool will optimize your keyword research effort, find your keyword position in Google, and so much more.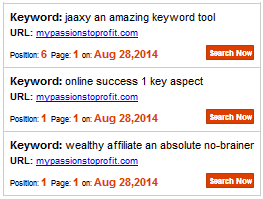 As bloggers and affiliate marketers, we know that finding keywords is a process too essential to ignore and it should not be left up to trial and error, or chance.
Allow me to show you how this process can be greatly simplified, so that you can optimize your keyword research and save valuable time.
Now we know that the more specific your keywords the better, and whether you are looking for long-tail keywords or short-tail keywords it really does not matter, because this one tool that I have discovered can help you do that and so much more.
My #1 recommended free keyword tool generator is none other than Jaaxy Keywords Research Tool. This for me has been a very exciting discovery and a very valuable tool, and I'll tell you and show you why.
Like I said before, long-tail keyword or short-tail keyword, you don't need a separate tool or to download any software. I use Jaaxy for both.
Below are some of the results for my posts after using Jaaxy as:
A keywords tool generator, and
To check my keyword position in Google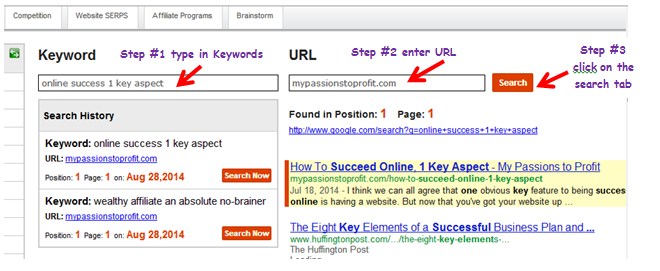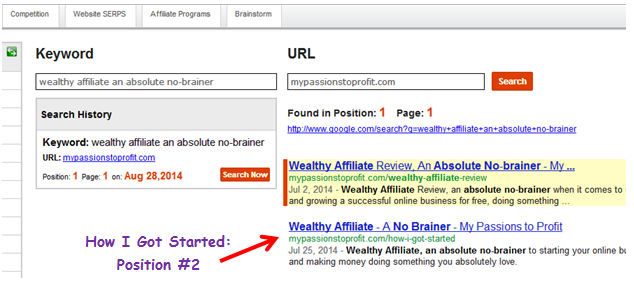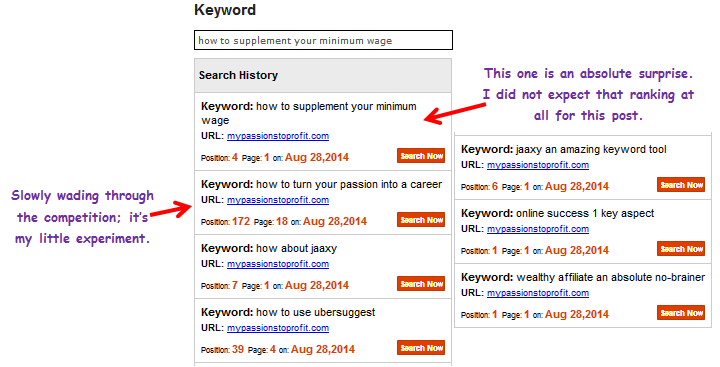 Here is a summary of a few of my other posts, and their corresponding Google rank and page number. As I indicated above, I am pleasantly surprised with the "How to Supplement Your Minimum Wage" post because the words "minimum wage" is so competitive. Originally, the post was titled "Supplement Your Minimum Wage", and I did not use Jaaxy for it.
What Did I Do?
This was actually done by trial and error. I used a combination of Übersuggest and the Google Alphabet Technique, to come up with some ideas and I chose the topic from there. For a while I could not find the post, which meant that it was not yet listed in the search engine.
However, after one of the Wealthy Affiliate training sessions, I renamed the post "How to Supplement Your Minimum Wage". Now it's in position #4 on Google page 1. Wow, how amazing is that!
There's a lesson to be learned here; namely the importance of having knowledge related to what you're doing.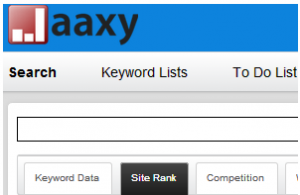 Now I have to say, fortunate for me, but now that I know better, I don't do trial and error anymore, but I use Jaaxy along with Übersuggest and Google Alphabet technique at times, to optimize my keywords research efforts.
(You can click on the link to see how I use Jaaxy with Übersuggest).
A Few Observations on what I have shown you:
I only checked 7 of my posts.
All 7 were listed/indexed
And 5 out 7 are on Google page 1.
Isn't that the position you want your keyword tool generator to get you to?
Let's Review
With the Jaaxy keywords research tool, at your disposal you have:
A Free keyword generator tool
A Free keyword rank checker so that you can check your keyword position in Google
Opportunity to make better marketing decisions
Access to quality keywords
Competition analysis
Global searches as opposed to local searches
And so much more!
All of which will increase your free traffic generation. I don't know about you, but this sounds really good to me, as more traffic = more sales.
Are You Really on Google Page 1?
You might be thinking that you can just Google your post and see where it is but if you are using your own computer, the result that you would get would not be accurate, unless you have disabled your Google web history. Please note that this is not the same as deleting your Google history.
One of the things you have to remember is that Google keeps your search history so at some point your search is personalized and you are served up exactly what you are looking for. So in this case, up pops your post and you think you are on Google page 1 when in reality that's not the position your post is really in.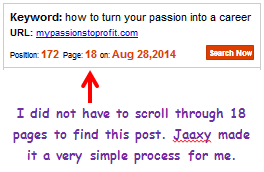 The alternative is to use a different computer but the problem there is that you may have to scroll through a few Google pages to actually find your post.
But why go through all that trouble, when you can get that information from Jaaxy in seconds for free?
Check out my Jaaxy Review
For more information on my #1 recommended free keyword tool generator, check out my Jaaxy Review.
In my review you can:
Discover how easy it is to use Jaaxy
Try Jaaxy for yourself and see the great results firsthand,
Find out how you can keep using Jaaxy for FREE!
However, if you want to jump right in and create a FREE Jaaxy trial account simply click the link to get started.
Why not become a smarter marketer and get a jump on the competition? I encourage you, don't leave your keyword research to trial and error, when you can have access to a fantastic and free keyword generator tool such as Jaaxy, that will optimize your keyword research effort, find your keyword position in Google, and so much more.
Again I hope I have provided you with some helpful information. If you have any thoughts on the matter, or you want to share your experience with keyword generator tools, or just say hi, I would love to hear from you.
To your success
Vanessa