Get paid online surveys vs affiliate marketing which is better? Well, it's no contest really. If you've ever tried to get paid with online surveys, whether free or paid, then you know that it can get frustrating. No to mention the fact that in most cases, if not all, you earn points per survey, as opposed to money.
If your thing is earning points to trade for Amazon gift cards and those sort of things. Then hey, knock yourself out. However, if you are looking to earn money online to replace your day job, then paid online surveys definitely won't get you there.
Here's what most people don't get. Survey sites might make and pay out a lot of money, but that's only because lots of people join. It does not mean that the people who sign up are making hundreds or even thousands of dollars on a regular basis. Rather, it means that these survey sites pay lots of people a small amount of money.
How surveys work
So here's the thing. To make money with surveys, you need to receive and complete them on a regular basis. Good luck with that happening. Even when you receive surveys, how many points do you get rewarded with?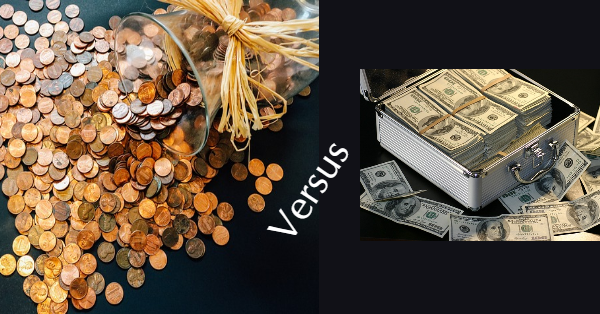 Admittedly getting paid for your opinion sounds like a good deal. However, when you think about how surveys are designed to work, and the time you spend doing these paid online surveys vs the rewards, it just isn't worth it. Well at least to me, it's not. I'm not sure how you feel about it. You probably like the idea of making points to exchange for gift cards etc.
But there are much better ways to make money from home and affiliate marketing is just one of those ways. Making money with surveys depends on your demographics. Added to that, you can be disqualified mid-survey.
More: 11 Crucial facts no one tells you about online surveys
When that happens, in most cases you don't get any points. That means you just wasted maybe about thirty to forty-five minutes on a survey you have nothing to gain from. Seriously?!
Come on now, you're smarter than that and your time is worth way more than chump change that's for sure. Now you probably understand why there are so many complaints about surveys.
Get Paid Online Surveys vs Affiliate Marketing
It's not contest! Completing a survey takes time. To spend all that time completing one survey and be rewarded with chump change, just isn't worth it. If beer money is what you are after, then hey, knock yourself out. But you are better off investing your time doing something that's worth your time and effort in the long run.
If you've never entertain the idea of using affiliate marketing to make money from the comfort of your home, then you're missing out.
With affiliate marketing you can easily create multiple sources of income. That means you can make as much money as you want to with affiliate marketing.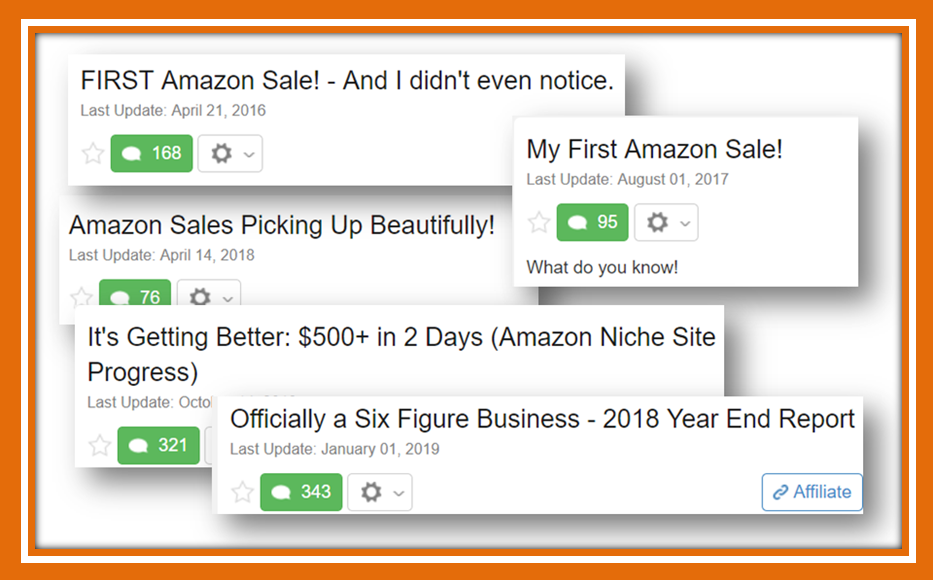 While it's nice to be paid for sharing your opinion with paid online surveys, you won't be making any kind of money that would bring you financial freedom. However you can do that with affiliate marketing because you can make recurring income.
Hey, if you want to keep trading points for gift cards and such, that's your choice. But if you are looking to make serious money online, then paid online surveys are not the way to do that.
So you choose. Would you prefer chump change vs multiple sources of income? That's why there's no contest when it comes to get paid online surveys vs affiliate marketing. Points vs multiple sources of income? It's actually an unfair and lopsided one really.
What is Affiliate Marketing About?
Hopefully you've heard about affiliate marketing. But just in case you haven't, here's a short blurb on it. Affiliate marketing is all about you making commissions when people purchase something from your website.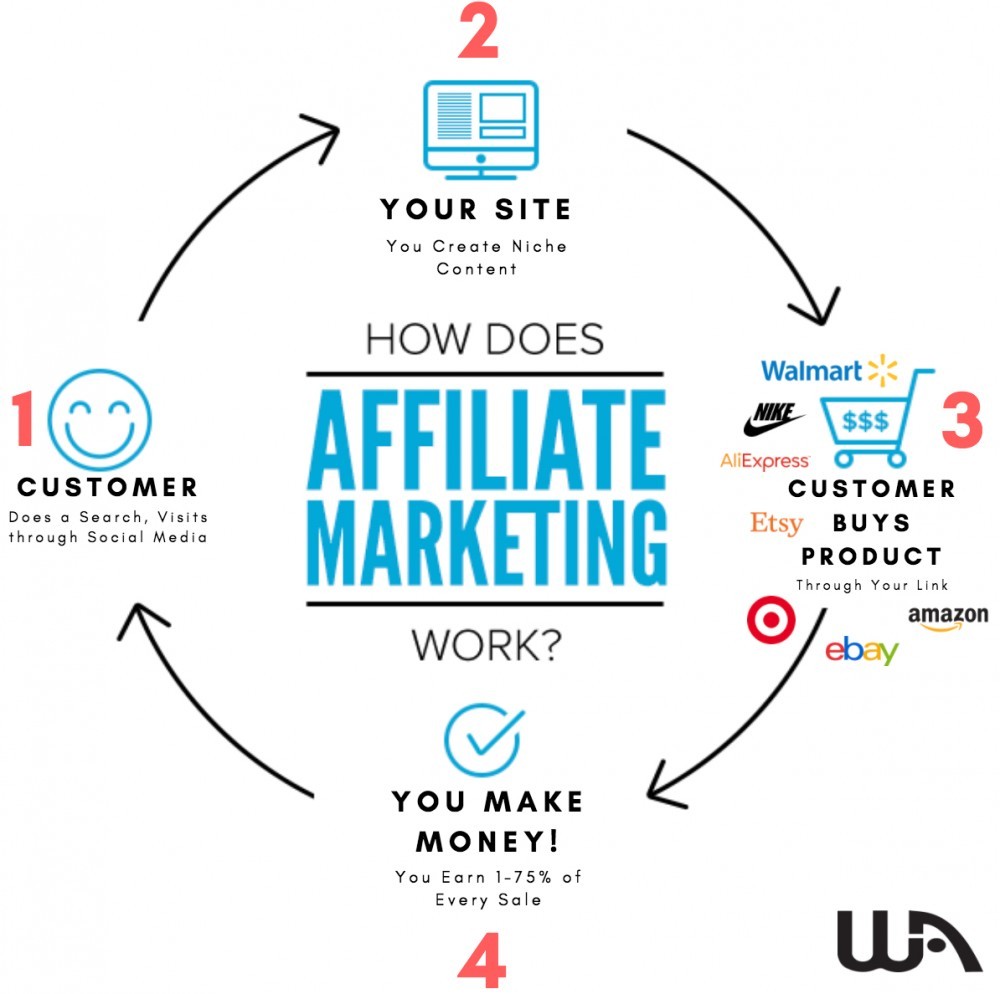 For example, if you had an Amazon affiliate website and someone made a purchase from Amazon via your website, you earn a commission. It really is that simple. The thing is, you can be an affiliate with multiple companies. In other words you can determine the amount of money you make as an affiliate marketer.
Just in case you are wondering, affiliate marketing is not hard to learn and anyone can do it. When I first got started I had no idea affiliate marketing even existed. I had never heard about it before. But I've got to say, it's my favorite way to make money online. Not just me, but a bunch of other people as well.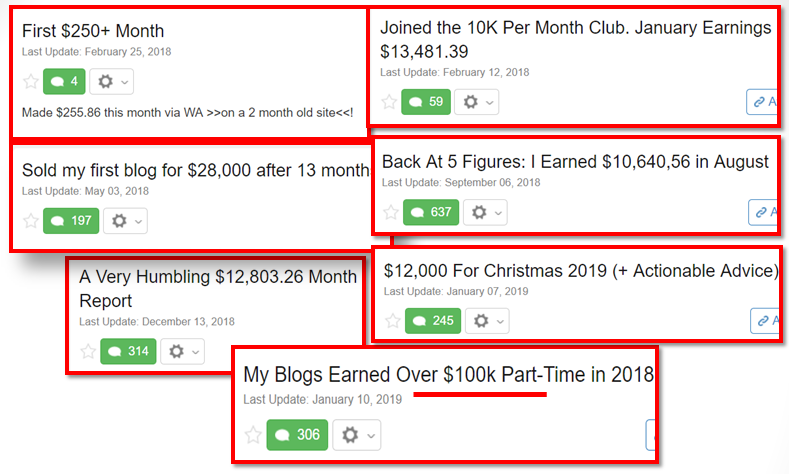 See, now this is why there is no contest between get paid online surveys vs affiliate marketing. With affiliate marketing you earn cash. You can use that money to do whatever you want; pay bills, increase your savings, pay off your debts, whatever.
Unlike get paid online surveys, affiliate marketing does not dictate how you use the money you earn. Rather, it's all about financial and geographic freedom.
When you think about it, earning points for gift cards, and the like, pales in comparison to the kind of money you can make with affiliate marketing.
Two Great Options to Get Started
All you need is the right opportunity to get started with affiliate marketing. Now it does not matter who you are, anyone can do get into affiliate marketing.
I've got two great options you can use to do just that.
You can get started free with Wealthy Affiliate and learn from the ground up. That's where I got started.
If however, you want to fast track your success, then get your hands on a done-for-you Amazon affiliate website.
Done-for-you Amazon affiliate websites are a great way to get started online quickly. It will cost you a bit more to get started, but the investment is absolutely worth it!
Save yourself the time and effort
If you want to save yourself the time, researching, writing content and building out your website, then a done-for-you website puts you on the fast track to success. We recommend Human Proof Designs(HPD) if that's the way you want to go.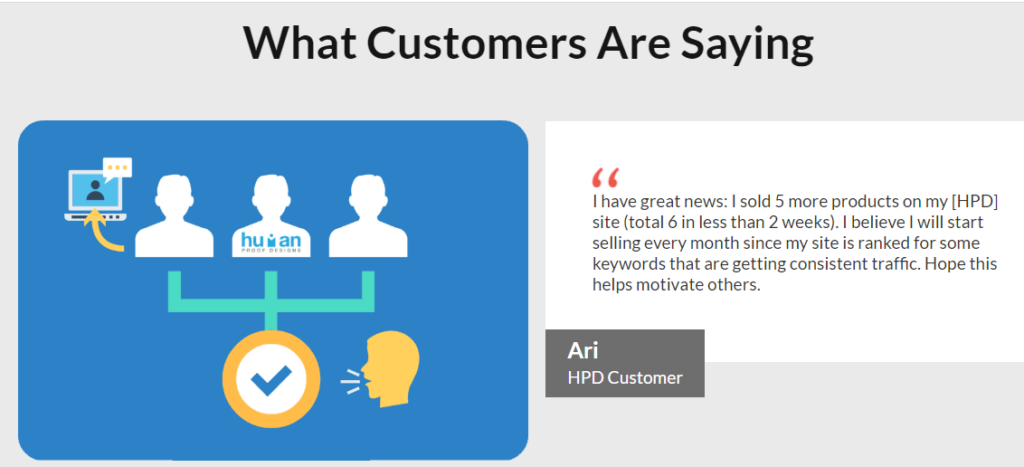 Both options are designed with beginners in mind, so it matters not if you have no experience with affiliate marketing. Even if you are an experienced affiliate marketer, these choices are no-brainers really. The focus is to help you get started earning an income online.
Quality and comprehensive step-by-step training as well as on-going support are just a few of the things you'll encounter with anyone of these affiliate marketing platforms.
So what's the difference between these two opportunities?
Well, the difference is, HPD will get you started with your own website that comes with keyword rich content already created for you. That means you get online quicker, saving yourself some time. If you want someone to build you a quality website, so you can start making money quicker, then HPD is the way to go.
If you want to learn how to do it all yourself, then Wealthy Affiliate is the way to go.
Summary: Get Paid Online Surveys vs Affiliate Marketing
Hey, listen. Stop frustrating yourself with surveys! If you are serious about making money from home, then you need to stop wasting your time with free or paid online surveys. Affiliate marketing is not rocket science. Anyone can do it, but you must be willing to put in the effort to make it work for you.
You are much better off making money with your own website, as opposed to making points in exchange for rewards. Use your time more wisely. Grab one of the opportunities below and put yourself on the path to financial freedom today!
OR