Purchasing a domain name is a simple process and there are quite a number of sources to get one. If you are about to get started online and you are in need of some guidance in this area then you need to read this. In this post I'll share with you how and where to purchase a domain name and a few other things to keep in mind when making your selection, so that you can avoid the mistakes I made and start off the right way.
If you have any questions or concerns about what I've shared with you or would like additional information on something I did not share here, then feel free to utilize the comment section of my website. That being said, let's get started then.
Why Purchase A Domain Name?
This is the first aspect I want to address, because I think you should understand the why behind what you are about to do, and the consequences if you don't do this. Think of a domain name as a place for your website. You can have a free domain name for your website and it can be just as effective and profitable as a domain name you own.
However, what you need to bear in mind is that if you don't own that domain your website is on, it's up for grabs and anyone can purchase that domain name you worked so hard to build your success on.
Secondly, think of that domain name as real estate that you own!
If you own a house or a piece of land, free and clear, no one can just take that away from you. In time, that house or land:
Increases in value, and
Eventually you can sell it if you want to.
The same way real estate increases in value, domain names also increase in value and you can also make quite a bit of money flipping domains.
So there you are working hard on your free website to build relevant and meaningful content for your visitors and you are making money. Then whoosh, out of nowhere, someone snaps up that domain name that's been increasing in value because of your hard work.
What to Pay Attention To When Choosing A Domain Name?
When choosing a domain name, you want to choose something that people can easily remember. Although it is suggested that a domain name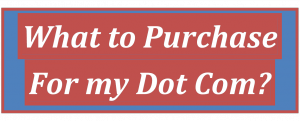 should be limited to 60 characters, short, sweet and easy to remember is a good rule to follow. In other words go for way less than 60 characters. I'll give you three reasons why;
If the domain name is easy to remember then there is less likelihood that mistakes would be made if a longer domain name has to be typed. That's a plus to your website being found online
If it's short and sweet, then it's easy to pass on.
Learn from my experience. I've got a domain name with 47 characters and it upsets me every time I look at it. I am not sure what I'll do with it as yet but it's just way too long. Can you imagine how the urls look? Extremely long! I honestly did not put much thought into purchasing that domain name.
You may also want to purchase a domain name that complements your chosen niche. For example, if your niche is playing guitar, then PlayGuitar.com is short, sweet, easily remembered, easy to pass on and very much related to your niche. Do you see how it's all coming together? An alternative could be LearnHowToPlayGuitar.com. This also fits the category.
Click on the link, if you need information on how to select or find a niche, before you purchase your domain.
Domain Options to Choose From
So your domain helps you create your online presence. Options include .com, .net, .org, .uk, .club. The dot coms are more popular and ranks quicker. However, depending on what your online presence is related to, you have options that would allow you tailor your presence accordingly.
For example, if  you are going for an organization (.org), network (.net) or you want something for a local business withing a specific country (.uk), or a club. That could be fun, but bear in mind that the prices vary for each one. There are a few other options as well.
Having a keyword rich or brandable domain is also something to consider. So check out this short video by Matt Cutts for more information on the importance of a domain name.
Where to Purchase a Domain Name?
Like I mentioned before, there are numerous sources online from which you can purchase a domain name. Here are just a few of the more popular ones:
1and1.com
Godaddy.com
Maddog.com
Hostgator.com
Namecheap.com
My personal preference is Namecheap.com
Why I Use Namecheap.com
At 1and1.com you can purchase a domain name at $0.99 for the first year, but then you pay $14.99/ year. Godaddy offers the same sort of deal.
At Godaddy you can pay $1.00 for a domain name the first year and while that sounds fantastic, the next year it won't be that price. It can range anywhere from $14.99 – $20.00 and upwards depending.
Hostgator.com is $12.95/yr and Maddogdomains.com can vary from $7.99 to $19.99.
Namecheap on the other hand shows you the price per year and I prefer knowing that up front. Additionally, I get to use a coupon code for my purchase. I am not sure how many people know about that little aspect but now you know as well. So instead of paying $10.69 for my first year, I enter a coupon code and get a discount. That means I pay less than $10.00 for my dot com domain name for the first year, from which I can earn way more than that.
In addition, I have not had any problems using Namecheap.com.
Let's Just Do A Recap At This Point
It's better to own your domain name; like real estate, it appreciates
Decide what type of domain best fits your need; keyword rich or brandable
Try to choose a domain name that's short and sweet so that it can be easily remembered and passed on
Pay attention to the prices for the various options
Choose a relevant extension (.com, .org, .net, .club etc)
I want to make this easy for you so I've included a short video below (by Patrick Chan) so you can see how simple the process is to purchase your domain name from Namecheap.com.
Make sure you access the coupon code for the month, since you'll need that information before checkout.
I hope this was helpful and please let me know if you need any further assistance. I look forward to hearing from you.
To your success always
Vanessa