Looking for legitimate home based business ideas you can use? Well, finding legitimate ideas to start your free home based business is easier than you might think. You simply need to know where to look. Now, admittedly, that can be an issue, since there are scams out there. But once you know what to look for, you could avoid the online scams.
Okay, so check this out. Billions of people are online and the same way you are looking for an idea or two, they are also looking for something online, and this could be anything. For example, they could be looking for "Blue Swede Shoes", Ipad Accessories, "How to Catch Fish Better", "How to Improve a Golf Swing", "Guitar Lessons", "Singing Lessons", or "How to Sew. " Or like yourself they could also be looking for legitimate home based business ideas, to make money from home.
Okay, I hear you. You're most likely thinking, what does that have to do with you looking for legitimate home based business ideas, am I right? Well, believe it or not, all of the above can be potential business ideas for your home based business.
Let's explore the possibilities to see how those online searches can become a real home based business opportunity for you.
Legitimate Home Based Business Idea
Do You Have A Hobby?  
---
A legitimate home based business idea can start with a hobby. Think about something that you are interested in, a passion, a hobby, a problem, or even a need. Any one of those things can be an idea for your home based business.
For example let's say your initial idea is "How to Catch Fish Better". This could be a niche, or it can be more specific like "Fishing Equipment", "The Best Bait", "Fishing Tips" or it can be even more specific, such as "Tips for Better Trout Fishing". This is very specific, and is solving a problem for individuals involved in fishing for trout; in other words, it's targeting a specific audience.
Three reasons why you want to have a specific niche: You have targeted followers; people who are actually interested in the information you are providing, as such
These interested followers are more likely to act upon your message, and this results in
Better online conversions
Below is a snapshot of other examples of niches.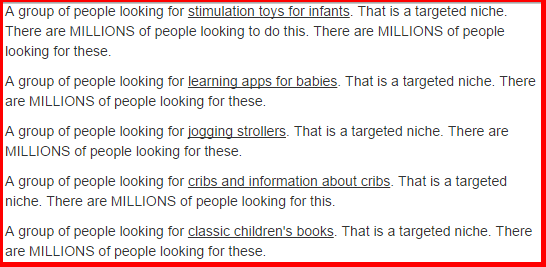 Do You Need To Worry About Competition?
---
No you don't. Consider the niche "stimulation toys for infants", babies are coming into the world every single day so that's a large global audience right there; parents who are looking for information, help, and products for their babies.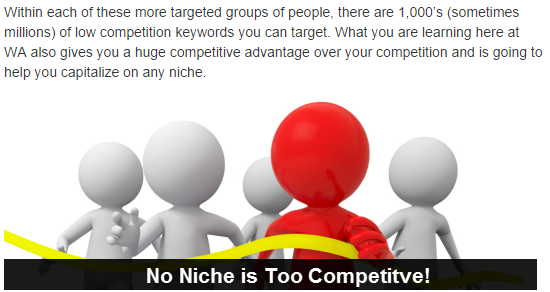 Let's consider the fishing niche again. Here are some specific keywords that can be targeted for the fishing option:
best fishing techniques
bluegill fishing tips
bass fishing techniques
bass fishing tips for beginners
largemouth bass fishing techniques
striper fishing tips
carp fishing tips
These are just a few options and they are all options for niches because they have a specific audience; people who are looking for these specific things. So even if you start off with a broad idea, just simply break it down to a more specific idea; into a niche or target audience. If you have any questions about this, just drop me a line in the comment section and I'd be happy to address the issue.
How To Find Niches and Keywords?
---
The next step to address, is how to go about finding these niches and keywords. A great place to start when you are looking for niches and keywords, is to use a keyword tool. I use Jaaxy Keywords Research Tool, since it provides all the relevant information I need in one place. In this example, I used "Fishing tips and techniques" to research as my keyword.
Below are the results. The keyword is highlighted at the top in yellow and the Jaaxy spews out related keywords I can further choose from. Every keyword with a green light (indicated by red arrows) is a niche. Take a look at the snapshot for a few minutes, there are at least six (6) potential niches indicated. Not bad, right? and this is snapshot just shows you about half of the list.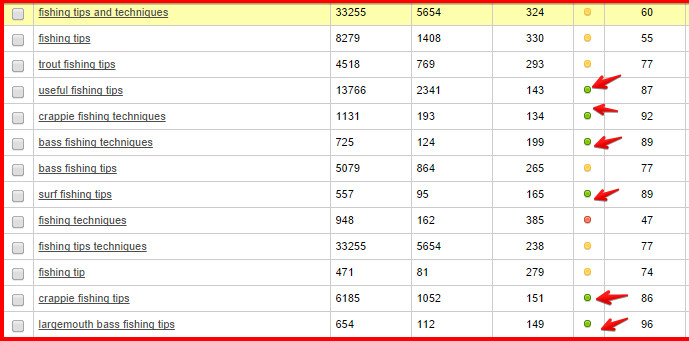 Now two key things I want you to note here.
The keywords with the yellow lights are options as well, but they would be a bit more competitive and would take a bit longer to rank.
The keywords with the red light indicator, you want to stay away from. The red light, like a traffic light, indicates STOP. In keyword language, it's oversubscribed and you just have a 47% chance of getting that ranking. Not really worth the effort, when you have so many other options.
YOU can find ideas all around you and like I said, once you are armed with the right keyword tool, the entire process is easy and takes a matter of minutes. If you are at a lost for ideas, Jaaxy can help there as well. Check this out. On the Jaaxy search box you can see what other people are searching for and that in itself can give you some potential ideas for your home based business. Cool, right! Check out my Jaaxy review to see the toolbox in action.
In a nutshell, Jaaxy
can simplify the process of finding legitimate home based business ideas for your free work home business.
it is a very easy tool to use, and you get valuable results in seconds.
You can even check your ranking for keywords with Jaaxy.
Why not try Jaaxy for yourself and see how easy it really is? Enter your ideas in the search area below and watch the result literally pop up in seconds.
If you don't have a keyword tool or you would like one that's a bit more efficient, YOU can sign up for a Free Jaaxy account and get free searches. If you need more information on Jaaxy, you can check out my
Jaaxy Review
.
With Jaaxy, finding new ideas for your home based business is a snap.
I hope this post was helpful in addressing how to find legitimate ideas for your work at home business and I look forward to hearing from you if you have any questions or if you need additional information, just drop me a line in the comment section of my site. I'd be more than happy to get back to you.
To you success
Sincerely
Vanessa