Okay, so you've most likely seen the ads on television and people talking about how much money they've made shopping online using Ebates. If you're looking to make extra money on the side, the ad sort of encourages you to find out what Ebates.com is all about doesn't it?
I've got to admit, they make it sound really easy and simple to make money shopping online, don't you agree? According to the ad, all you need to do is shop online with Ebates, then they'll send you a big fat check.
But as good as it sounds, here are a few questions you need to ask yourself.
Is making money with Ebates.com really that simple?
Who are the people that are making money with Ebates, and
Is Ebates.com worth your time and effort?
After all there are better ways to make money online. So let's really take a look at what Ebates.com is really all about. In this Ebates review, I'll give you the run down while I answer those important questions highlighted above. Here's what I'll share with you:
What is Ebates.com About?
The story of Ebates is pretty interesting and it demonstrates how individuals can make tons of money online with one good idea. Ebates.com was started in 1998 by two Silicon Valley deputy District Attorneys who used to prosecute online fraud and identity theft. Kinda makes you feel safe to use it, right?
Located online at www.ebates.com, Ebates is a website that offers its members the opportunity to earn cash back from their online purchases made from its affiliate stores. But these two guys don't own it anymore. Maybe they wanted more time to themselves to just relax. Hey who knows. Anyway, in 2014 Ebates was sold to Rakuten, Japan's largest ecommerce firm, for a staggering $1 billion cash! Talk about turning your passion into a profit!
Click here and learn how to turn your passion into a profit
How Does Ebates.com Work?
Well, funny you should ask. Ebates.com is managed as an affiliate marketing site. That means the site makes money or commissions anytime someone buys a product from any of its over 2,000 affiliate stores, which includes Amazon, Zulily, Kohl's, Macy's, Amazon, Travelocity, Walgreen's, Pier 1 Imports, Walmart, Best Buy, and a host of others.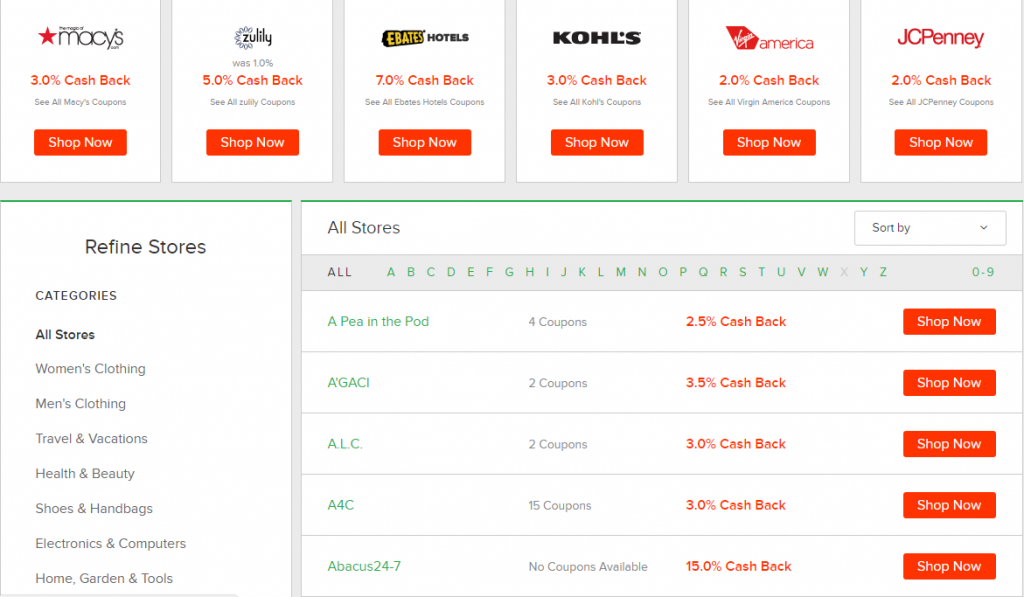 Think of Ebates as the hub or one stop shop for your favorite online stores you frequently shop at. So instead of going to your favorite online store to shop, you go directly to Ebates, find your store and start shopping. Once you shop at your favorite store via Ebates, you earn cash back based on the percentage offered on your net purchase amount. However, cash back percentages or amounts vary by product and store category and you can also use in-store coupons.

Earn Money with Ebates.com: How To
Well, there are a few ways in which you can do this. Apart from the cash back you earn from your online purchases, you can also earn money referring your friends and family to Ebates.com. You can earn one referral bonus per individual you refer to Ebates. But there's a catch! In order for you to earn referring individuals, you're referral must keep an active account. An active account means "your referral has to make a qualifying purchase of $25 within ninety (90) days of becoming a member."
Another way you can earn money with Ebates.com is using an Ebates Cash Back Visa Credit Card. You can earn an extra 3% cash back when you use your Ebates Visa Card to make your purchases, and an additional 1% if you use it anywhere Visa is accepted. The credit card is free but you do have to have a good credit score in order to apply for it.

How and When do I Get Paid?
Now we're getting to the good part right?
Ebates sends you money on a quarterly basis and there are three (3) options you can utilize to receive your payment. You can have a check sent to you, once your balance exceeds $5.00; you can have your money deposited into your PayPal account; or you can have the check sent to an individual or charity of your choice. If however a cash back every quarter, just won't cut for you and you're looking for something more substantial, then you may want to check out my Top Free Work at Home Recommendation. It's free to get started!

How to Join Ebates.com?
Ebates is absolutely free to join! On the sign up page, www.Ebates.com you simply select your sign up bonus; either a $10 Walmart Gift Card or a $10 Ebates cash bonus. Once you've made your choice, you then complete the sign up process. You can sign up with your email address and a password or you can use your Facebook or Google account. Simply enter your information, confirm that you are not a robot, hit the "Join" button and that's it. Below is a snapshot of the sign up page.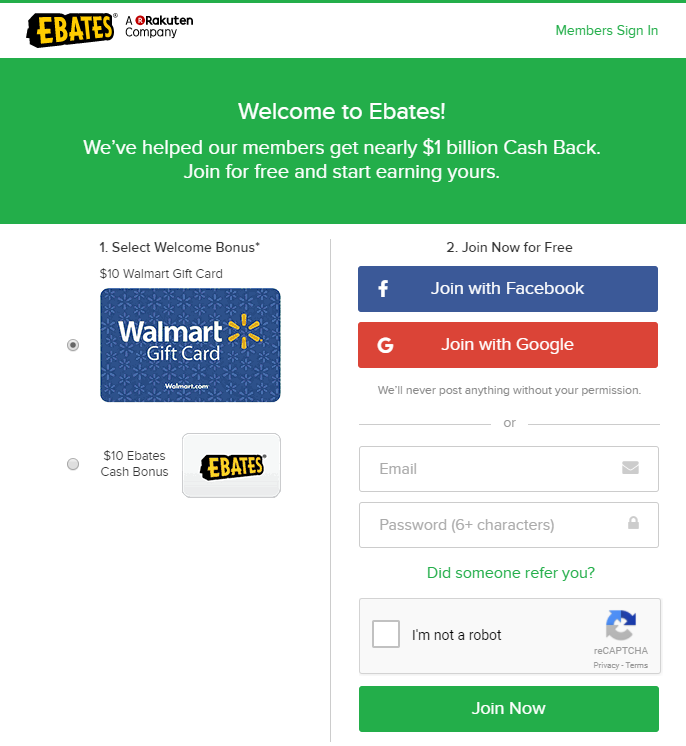 Anyone can join and benefit from Ebates, even if you live outside of the U.S. or Canada. You just need to make sure that the store you're making your purchase from, ships to where you want the item delivered. Of course to become a member, you must be 18 years and older.

Ebates Hacks and Tips
Utilize the cash back button
One of the things you definitely want to do is utilize the cash back button. You can do this to easily spot the items associated with cash back and the percentage being offered. The button would also alert you to associated promo codes when you're ready to check out.
Complete your purchase in one shopping session
If you want to earn cash back on your items, make sure you complete your purchase in the same shopping session you began, when you clicked on the Ebates link. Window shopping or visiting other sites before you complete your purchases, can void your cash back. Your shopping session must be associated with you clicking on the Ebates link.
Enable 'cookies' on your computer
If it isn't, make sure cookies are enabled on your computer, as cookies are used to authenticate the user and to make sure that the cash back is associated with your account. If you disable cookies, you'll miss out on cash back associated with your purchases.
Use PayPal to receive payments 
You should definitely consider using PayPal as a payment option. It's quick and there is no wait time like the mail. In addition to which, sometimes things can and do get lost in the mail. You know how that goes, and you certainly don't want that to be your long awaited quarterly check, now do you? Now you do have to pay a little something to PayPal. So if your first quarterly check is $12 that's not exactly the amount you'll get. You'll get a tincy bit less.

Ebates Complaints and Concerns
There is never a dull day as far as complaints go. We can always find something to complain about, even when we bring it on ourselves. You know how we humans get, especially when it comes to the service we receive, and Ebates has not been exempt from complaints.
Cash back cancelled 
What? Oh yeah, check this out! Ebates reserves the right to cancel the cash back associated with a transaction if the affiliate store you made your purchase from withholds payment to Ebates or neglects to report said transaction.
Missed payouts
Oh man, say it ain't so! Well believe it or not, this seems to be the most common complaint about Ebates. Even though you've met all the requirements as far as payments go, there is a possibility that you can "fall through the cracks" and not receive your check. Oops. Now that can be disappointing, especially if you had your heart set on using that extra cash on something special.
Is the cash back really 5%?
Sorry to disappoint you, but "up to 5% cash back" does not mean you are getting 5% back on your purchase. Conditions apply and you'll have to satisfy those conditions to get that 5%. So if you want that 5%, then all you need to do is know what those conditions are and satisfy them. Seems like you have to jump over a few hurdles to get that cash back doesn't it?
Shopping trips disappeared
It gets worse. Remember that cash back button I mentioned earlier on? Well you've got to make use of it, that's for sure, because not every purchase you make within Ebates will count towards a cash back. So transactions that do not meet the cash back criteria are automatically wiped from your account.

More Ebates Complaints and Concerns
Maximum cash back
Now I am not sure how many people know about this, but the maximum that can be earned on any single purchase is $50.00. If you spent $10,000 on an item, you are only earning $50 cash back. I don't know about you, but that does not work for me. Then again some people would say, better a little something than nothing at all.
Hey, where's my cash back or sign up bonus
You won't like this one either. Even though anyone can join, you need to have a valid U.S. or Canadian address to be sent a gift card bonus. Added to that, gift cards can take up to 4 weeks to be mailed, once you qualify for it; you've made your minimum purchase of $25 within the first 90 days of joining.
Quarterly payments
Quarterly payments might not be such a bad idea, since it allows you the opportunity to rack up some benefits if you're an ardent shopper. However, on the flip side, it means that you have to wait to enjoy the benefit of your shopping spree. But let's hope you don't missed being paid, after waiting all that time.
I remember those good old days of customer service
When you're dealing with customer service, it can often be frustrating and there are some instances in which you feel as if you don't exist to them. I hope that won't be your experience, but there have been some complaints about the lack of customer service at Ebates.

Is Ebates Legitimate or a Scam?
Hey, complaints aside, Ebates is absolutely legitimate! Some people love it and some people hate it, as with everything else. Just goes to show that you just can't please everyone. Complaints aside, they've managed to maintain their A+ rating with the BBB, so they must be doing something right. But the question remains, is Ebates really worth it?

Ebates Alternative: My Recommendation
Admittedly, it might be tempting to join Ebates, because you see the television ads of people talking about getting huge cash back checks. Well, here's what I suggest. If you shop online regularly, then it makes sense for you to use Ebates. Why not reap some rewards for shopping online? But to avoid frustrating yourself in the process, you need to pay attention to the conditions related to the offers. That way you're better able to maximize your earning potential.
If however, you're not a regular online shopper, then this opportunity won't be the best way for you to earn a significant amount of cash online. So you have to think about that, if you're a seasonal or occasional online shopper. But no worries, because if you're looking to earn some serious cash from the comfort of your home, then you definitely need to check out my Top Free Work at Home Opportunity. With this opportunity, you can start your own affiliate website and earn much more than cash back every quarter. So do yourself a favor and check it out! You've got absolutely nothing to lose. So why not learn how to turn your passion into a thriving online business?
Hey, I sincerely hope that this Ebates.com review gave you some perspective. If you've got any questions, feel free to drop them in the comment section. I'll be more than happy to get back to you. Of course you are welcome to share your experience with me and my readers.
As always, nice hanging with you. Keep good and be well.
You'll get everything you need to start and grow your affiliate marketing business to any level you desire.