Well, you be the judge!
Starting an online business does not require much. These days websites are built simply by entering a bit of information and the click of  mouse; no special skills are required and the entire world can have access to your online business. But is having an online business really worth it? Well, making money 24/7/365 is nothing to sneeze at I'd say. For an opportunity that costs so little to get started, it sure delivers phenomenal returns.
Starting your own online business does not require any great bits of knowledge. It does however require common sense and perseverance and it is definitely not for the faint of heart or the person who has expectations of getting rich quick. Although I've seen people make money in a matter of days, that's not typical results. One mitigating factor could be the niche that was chosen.
Is Having An Online Business Really Worth It?
Now don't get me wrong. I am not saying that you can't get rich with an online business, the possibilities are immense. All I am saying is that it takes work to get there. It's just like running a brick-and-mortar business, the only difference is your business is online so it's open 24/7, 365 to all and sundry, so it can make you money while you sleep. Love that!
Even so, most people fail with their online business. Here are three (3) reasons why:
No follow through – they don't stay with it and put in the required effort
Get distracted (shiny object syndrome) – they keep looking for that new thing or promise to make money quicker and faster
They give up when they don't see immediate results
That's why some people might question if having an online business is really worth it. The do everything in their power to sabotage their efforts then the wonder is having an online business really worth it? That's not the way to attain success in any thing in life.
But here's what you need to know. Starting an online business is not going to be immediately gratifying for most people, at least from a monetary perspective, so you can't afford to think short-term.

You are most likely thinking, internet, so many people are online… but you now what, you can have the best articles but if you don't let people know that, it's hardly likely they'll find you. If the people who are online don't know you exist, or they can't find you, you won't make the money your site is capable of making. It's that simple. So promoting your site is important.
Having An Online Business Is Worth the Effort
If you're still wondering is having an online business really worth it, then check this out. Here are a few of the top earning blogs, according to IncomeDiary.com. I've only included the first seven, but you can check out the list and see if you see the one that might be familiar to you.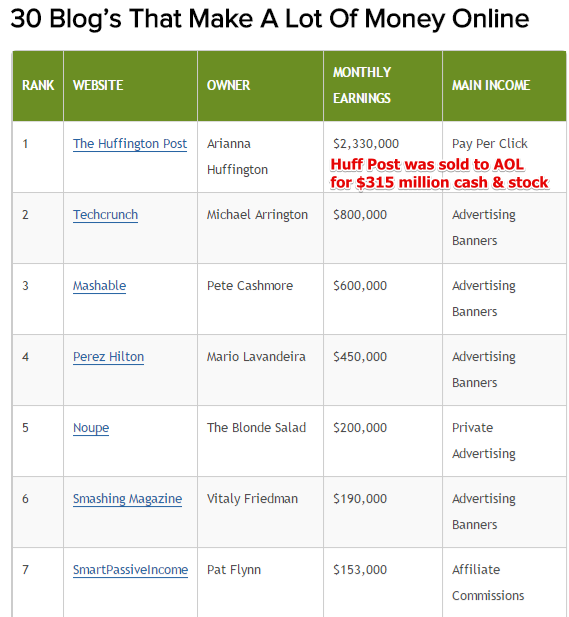 Now the success didn't happen overnight but this is what's possible when you stick with it long enough to make it work for you. The thing is, once you understand how to make money online, it's actually easy. Hey if they can do this, why not you? This list definitely gives you an idea of the potential available. So why not use this as your motivation to get started online and to keep you inspired to achieve your financial goals?
Want to know how to start your own successful online business free? Then simply create your free account here and get started today! Learn the essential keys to having a successful online business.
You'll get everything you need to start and grow your affiliate marketing business to any level you desire.