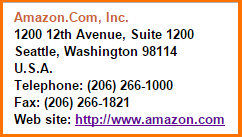 What is Amazon.com all about and how did this mega online enterprise get started? Sometimes we take it for granted that everyone else knows the same things that we do and that's not always the case.
Quite a number of individuals might be familiar with Amazon.com but there might be others who might not know what it is and the story of how this mega online enterprise got started.
To me, the story of Amazon.com is absolutely amazing and if you think so as well, then be sure to give me a shout out in the comment section of my website. You simply have to admire Amazon's founder and CEO Jeffrey (Jeff) Bezos for having such vision and foresight.
Amazon.com is like your one-stop-online-retail-store, where you can purchase just about anything. The sheer size and diversity is utterly amazing and like the Amazon (rainforest), it spans across several countries. But before we delve into all the products and services you can purchase on Amazon.com, here's a little blurb on how it got started.
How This Mega Online Enterprise Got Started!
---
Now you might not believe this, but Amazon.com was not always the mega online enterprise that we know it as today. That might sound crazy but this company started out from the garage of its founder (Jeffrey Bezos).
Key Lesson: Do not despise small beginnings.
According to Encyclopedia.com, in 1994, Mr. Bezos left his vice president job of a Wall Street firm and started the planning process for his future mega online store. Hey, that's a hefty chunk of change to walk away from. How many of us have that kind of confidence to step out of our comfort zones to realize our ideas or dreams?
Anyway, here's how the process went that brought about the results we see and enjoy today:
Plan
Products
Build website
Network
Once the plan was in place, 5 products were selected from an initial list of 20. The 5 products were; compact discs, computer hardware, computer software, videos, and books. "The website debuted in July 1995 and quickly became the number one book-related site on the Web" (Encyclopedia.com).
As stated in Encyclopedia.com, "In just four (4) months of operation, Amazon.com became a very popular site on the Web, making high marks on several Internet rankings."  As operations continued, Amazon went public in 1997 and it was the first internet retailer to secure one million customers. Happy dance!
Can't you just hear the cash register ringing up sale after sale? Well more like credit cards being debited, but that doesn't really make a sound now does it? (LOl)
But here's the thing though. Despite its start in 1995 and having attained such a lofty goal, it's reported that Amazon.com recorded its first net profit in the fourth quarter of 2001 (Reference for business). What?
They've been in business now for how many years and there's no net profit to report? Are you scratching your head trying to figure it out?
Key Lesson: Short-term sacrifices for long-term gains.
But here's my question to you. "What would you have done at this point? Throw in the towel?"
Let's just go back to the plan for a minute. If the plan was to get Amazon.com to the point it is at now, then that takes money and strategy.
Do I hear the terms "reinvestment strategy?" I certainly think so. I think Mr. Bezos was focused on what he wanted this online retail store to become and he invested in that vision. Hey, that's just my opinion okay.  No net profit reported for what? About 5 years?
Would you have the stamina to do something like that? Do you think he had some negative vibes coming his way from a few people?
You know, sometimes when you tell someone about something that you want to do or something new you want to try, or a dream you might want to achieve, they sort of don't exactly support you? Know what I mean?
For example, you might tell someone you want to try starting an online business. You are more likely to hear about "it's all scams"… etc. Granted there are some unscrupulous people online who take pleasure in ripping off unsuspecting individuals, however there are also plenty of legitimate opportunities online as well.
Amazon.com represents one of those legitimate opportunities. But let's not get ahead of ourselves just yet.
I am sure there must have been a few people who doubted, and maybe even questioned, whether or not Mr. Bezos could pull this off, especially when no net profit was being reported, year after year, after year.
But check this out. Even though the first net profit was reported in 2001, according to wired.com, in 2012 Amazon.com's net sales totaled $61.09 billion. Oh yeah! Take that to the bank!
Key Lesson: Focus is key to achieving a goal.
So What Exactly Can You Find On Amazon.com
---
Let's check it out.
Well known for their Kindle Fire, there is an impressive amount of products and services available on Amazon.com. As I was thinking about this, I was wondering if Mr Bezos' inspiration was the Amazon (Rainforest).
For example, the Amazon is huge, spans several countries, and there are quite a number of animals, plants, birds, mammals and fishes.  It's the same with Amazon.com; you can find just about anything there.
Then I thought, hmn, anything? "I wonder if they sell Pampers?" So I did a quick search and what do you know. Pampers and wipes!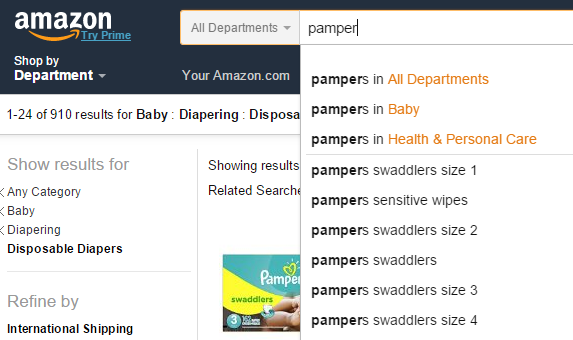 Okay, what about milk and cookies? Yeah, I know, sometimes the weirdest things come to my mind. But I searched it anyway and what do you know. You can also purchase milk, cookies, eggs… from Amazon.com (LOl).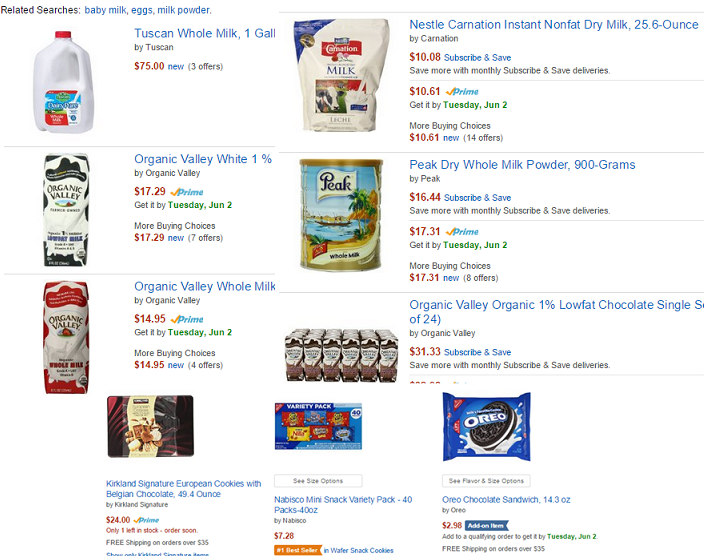 Okay, so apart from the Kindle Fire, Pampers, Milk and Cookies, what else is available on Amazon.com?
While I am not about to list every single item that's available, that is just way too much, you can check out the snapshot below for a list of all the departments and services.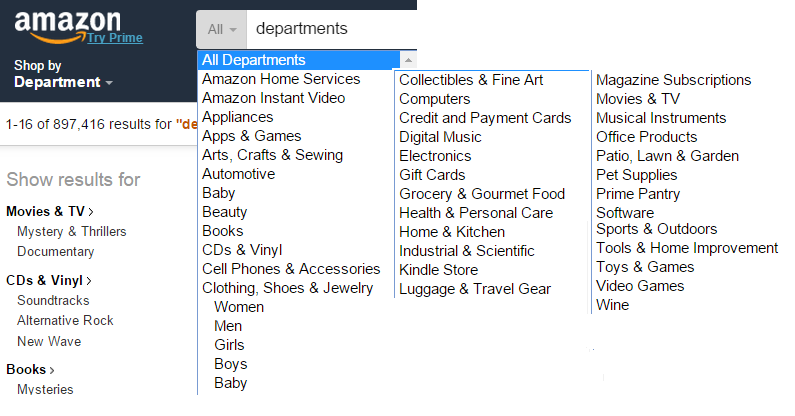 From this list I chose one specific Department (Electronics) and one product (privacy screens) to give you a better idea. Check out the listing in the snapshot below. Look at the results! A whopping 195,737 related products. Privacy screens galore!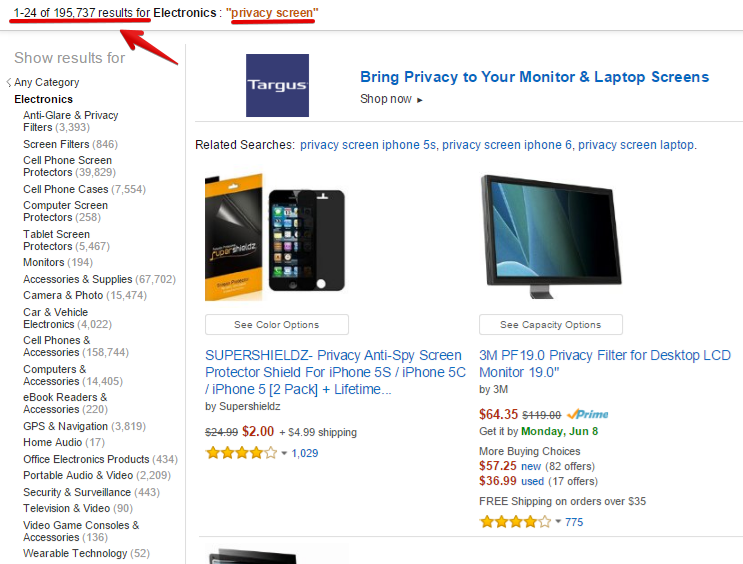 Now do you see why I think it's amazing? Can you imagine the product listing? You should see the warehouse! Okay, you twisted my arm, there's a snapshot below. From a garage to this!
This is more than "Earth's biggest book store!" And this is just one of their warehouses!
Hey, to accomplish something like this takes foresight, vision, determination, networking, money, and let's not forget, a heaping set of technology, and some hardworking employees I am sure.  Even so, I am sure I left out a few things.

This should be an interesting read I'd say. Hey, well what do you know? It's available on Amazon.com
 Key Lesson: An investment is required to reap the desired benefits.
How You Can Benefit From This Online Retail Giant
---
Shopping online is very convenient; no long lines, you can do it from the comfort of your home or where ever. You can use your smart phone, laptop, iPad, or desktop computer. Don't have any of those, you can certainly find anyone of them on Amazon.com
But Amazon.com is not just about the convenience of shopping online and finding what you're looking for. It's also about providing opportunities for others as well.
Remember I mentioned about starting an online business? Well, Amazon also provides opportunities for you to do exactly that.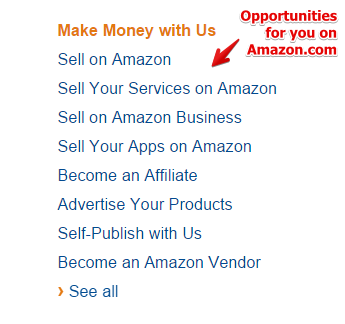 Check out the list of make money opportunities below. With Amazon.com you can:
Sell products, services, and Apps
Publish independently
Become an affiliate or vendor
Advertise your product
They've already got millions of customers. All you have to do is tap into that, once you've found the opportunity that's right for you.
Just remember oak trees grow from acorns and oak trees are considered one of the biggest trees in the world but they take time to grow. So do not despise small beginnings my friend as it has to start somewhere.
Mr. Bezos started out of his garage and from that we have this fantastic mega online retail store we know as Amazon.com today. Have you checked out Amazon's current logo?
Key Lesson: You won't know how much you can achieve unless you try.
I hope you were able to learn a thing or two and I hope you capitalize on the opportunity that's before you.  Hey if other people can start their own online business and be successful at it, why not you? Why would you think you won't be able to do something like this?
Are you thinking that you don't know how to start doing something like this? In fact, this might be your number one reason. But I am about to take away that perceived stumbling block by offering you:
An opportunity to learn what affiliate marketing is all about
Access to free training if you want it, and
Lots and lots of help and support to help you make this a success.
Being successful at anything, requires that you know what to do and how to do the task and help and support can often make a huge difference.
So check it out and if you have any questions at all, please feel free to drop me a line in the comment section of my site and we'll talk about it. I look forward to hearing from you.
Vanessa