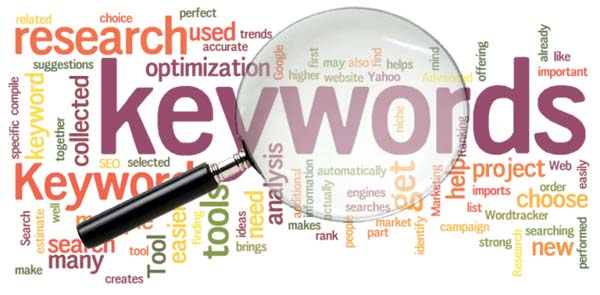 If you're now getting started online, you just might be looking for a bit of clarification on what a keyword search tool is all about and what it's used for? Well stick around! I'll tell you what you need to know as well as show you a kick-ass keyword tool you can use absolutely FREE!
So, let's get the show on the road!
What Is A Keyword Search Tool
A keyword search tool or keyword research tool, is simply an instrument used for finding "keywords" that would facilitate ranking for blog content. It is used by affiliate marketers, bloggers, and most likely anyone who is making a living from an online business.
Okay, so let's just back up a little bit and get an understanding of what a keyword is.
A keyword is basically the phrase you type into the search engine that you are trying to find information on. To reinforce this point a bit, let's just take a look at the process you engage in when you are looking for something online.
Step 1: Select search engine (Google, Bing/Yahoo…)
Step 2: Type in what you are looking for; whatever phrase you type in, that's a keyword. Example " What is a keyword tool." Those are the keywords you typed into the search engine to find the information you wanted.
Step 3: The search engines would then give you a bunch of results
Step 4: You make your selection; You select or click on the article you think that would most likely answer your question or provide you with the information you're looking for.
Now depending on what you are looking for, you can get pages and pages of results and sometimes just one page or two. However, you don't go through all those pages and pages of results now do you?
Your search is recorded and a Keyword Search Tool tells its user how many people are actually searching online for a particular thing or phrase.
What Is a Keyword Tool Used For?
#1. Targeted content
When you're looking for information online, you most likely you select something from the first page and more specifically closer to the top. Right? If what you are looking for is not on the first page, then maybe you'll go to the second, page. However, once you find what you are looking for, that's it right?
What you've accessed there is "targeted content." You were that person's (blogger, affiliate marketer, company) target audience and you accessed their post or page simply because it was on the first page of the results you got. That right there shows the importance on getting your articles ranked; it makes your content visible and available to the individual who is looking for it.
The process you engage in, when looking for something online, highlights five (5) important points to keep in mind:
Content is important on any website and you want to make sure you have targeted content.
Targeted content ensures targeted traffic, which can often translate into sales.
Ranking makes your targeted content available to your target audience.
Using viable keywords for your blog content, facilitates ranking.
Finding viable keywords means knowing the competition for the keyword.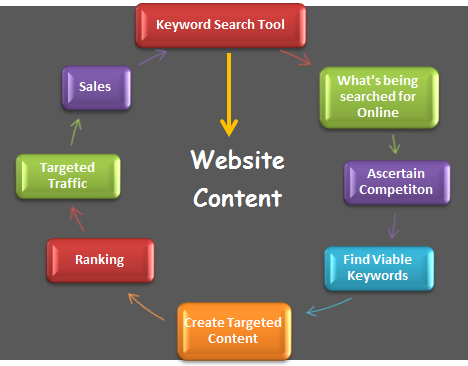 Where Does The Keyword Search Tool Fit In?
---
A keyword search/research tool lets you know what people want; what they're looking for online. If you can't ascertain that kind of information, then what are you really creating your content on?
Once you have this information, you are better able to tailor your blog content to meet the needs of your target audience, whoever they are.
Now, the more people searching for a particular thing is good (more traffic) however, if there are numerous articles already written on the particular thing (keyword), then it won't make much sense for someone to write another article on it, since it may be difficult to get ranking for it.
Apart from finding out what people are looking for online, keyword search/research tools also help to ascertain the level of competition for "keywords" or the information that individuals are searching for online.
Competition in this case, refers to how many pages are already out there for the keyword you chose to write content for. Knowing your competition is important information because it influences ranking. If there are too many pages out there, then your keyword most likely would not be a viable one and you won't get that ranking you want.
Let's just go back to the process of how you find information online for a minute.
When you entered your phrase or keyword in Step 2, all of the pages that came up from the search engines, Step 3 (the results), is an indication as to how many people have actually written something on what you were looking for.
For the online entrepreneur, all those pages that popped up, indicates the level of competition for the keywords you entered in the search engine.
Let's use an example. Let's say someone wanted to find out if he/she was a good kisser and they typed the following phrase or keyword into Google "How to know if you are a good kisser."
Let's see what results popped up.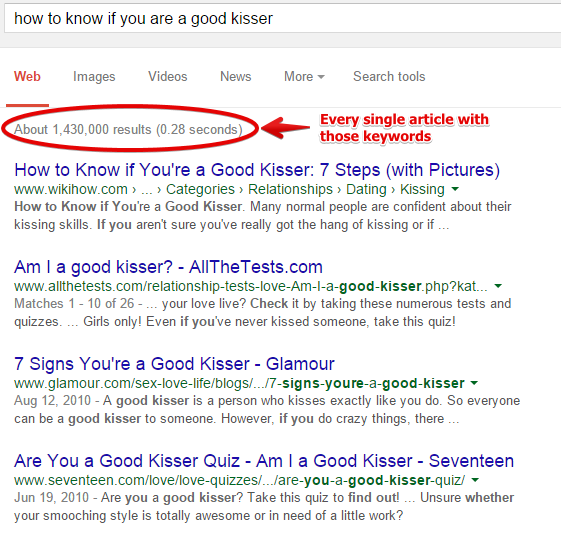 Every single post or page with those keywords and variations would pop up, whether those words were in the title, the url or in body of the information.
How are you going to sort that out to determine if your keyword is viable or not? That would be a task in itself, and who has that kind of time to sort through all those pages?
Just looking at the results, you might think that the chosen keyword was not viable. However, when I do a quoted search for the keywords "how to know if you are a good kisser," the results are quite different.
Let's play, "Can you spot the difference?"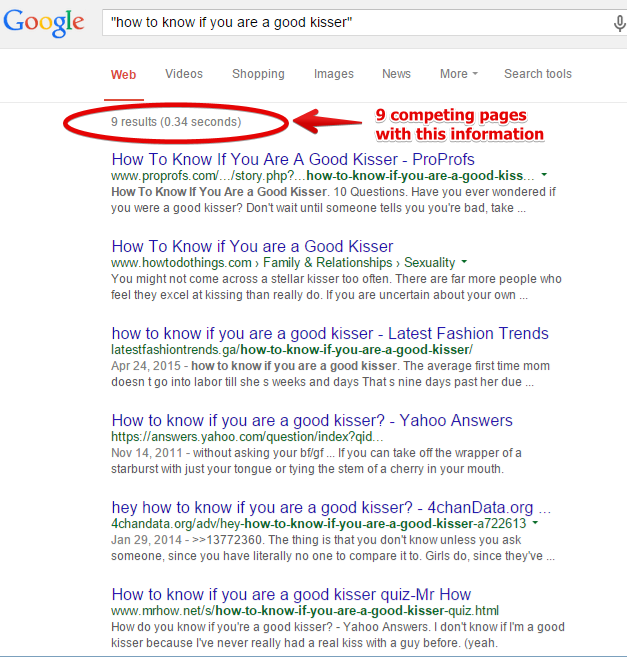 There are just 9 pages for the exact keywords (phrase) "How to Know If You Are A Good Kisser."
Translation: there are only 9 competing pages for those keywords. In a case like this, it would be very easy to get first page ranking for this topic. Would it be okay for someone to write another article on the topic?
Absolutely, since there are only 9 competing pages. By the time you read this, I am sure other individuals would have done just that.
But the question here is, how did those article writers know that people were searching for this information?
Maybe they just thought of it and thought it would be nice to write something on the topic. What do you think? Sounds reasonable doesn't it?
While this might seem like a simple process to engage in, it's not a practical one, unless you've got quite a bit of time on your hands to sort through the search engine results. Again, this is where a keyword research tool comes in, as it saves you that time and effort by giving you the information you need, to better utilize your time and be more productive. Sounds like a plan to me.
You might be thinking well I can just do a quoted Google search every time I need to write content, but that information won't always be as effective and I'll show you why.
A keyword research tool gives you specific information for specific keywords so that you can target a specific audience. Look at the snapshot below.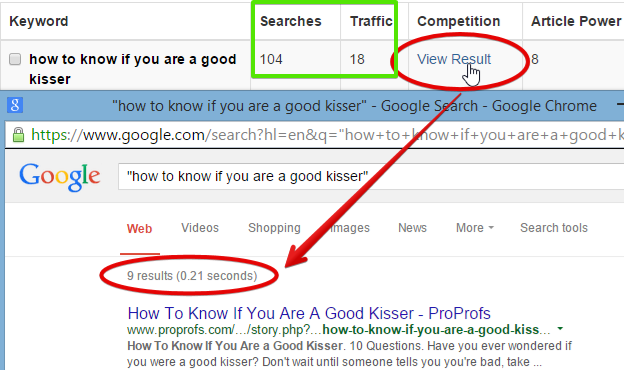 As you can see, using a keyword tool, gives me much more information. Apart from the competing pages, I also got approximate searches and traffic, in addition to the chances of ranking for the article. I also got variations I could use, if you look at the snapshot below.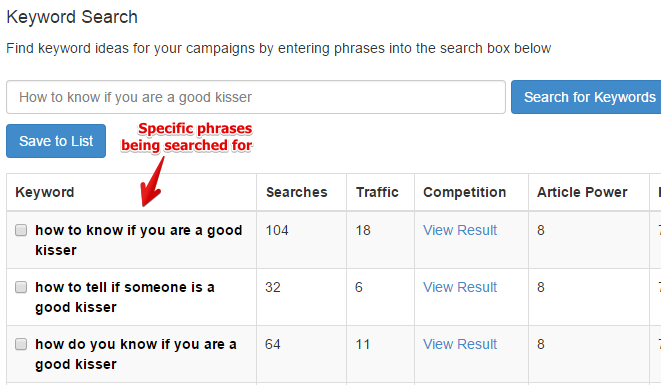 In other words, the keyword tool gives you much more targeted information.
Which Keyword Tool Fits My Needs?
---
I use the one above as well, since this is a free one for me from Wealthy Affiliate. But my preferred keyword search tool is Jaaxy, because it gives me much more that the free keyword tool above. To TRY Jaaxy and learn more about how you can use it for free, click here.
Just looking at the Jaaxy dashboard, you can see the range of available features. So let's check this baby out and see how it works, shall we? I'll use the same keywords "How to know if you are a good kisser."
And the results are in!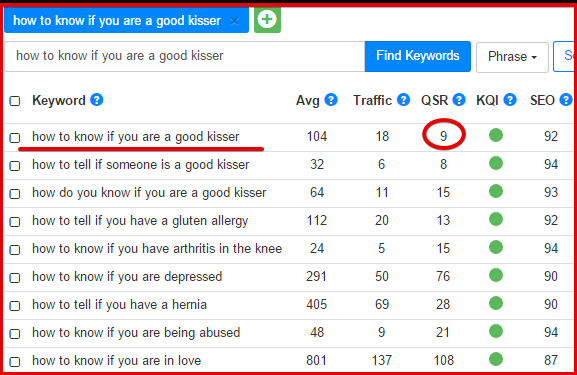 Using Jaaxy to find out about this specific keyword, I got:
Global searches Avg 104
Estimated traffic = 18
9 competing pages
I have a 92/100 chance of first page ranking
Other keyword options as well
If you noticed, I don't have to click on "view competition" to get the information I want, as Jaaxy gives me that right off the bat. You may have also noticed the green circles.
Those green circles indicate that every keyword on that list are viable options for website content. This is what I mentioned before about getting more ideas. If I had a relationship blog, I could use the keywords "How to know if you are in love," as well. This is just one search and a partial list of my findings.
Here is a list of some of the information I get with Jaaxy:
Global searches as opposed to local searches (which some keyword tools give you)
Possible traffic
Competing pages
It indicates whether or not the keyword I wanted to use is good or not.
The possibilities of ranking for it
Additional related keywords
Check out what my competition is doing
Find niches
Check for domain availability
I can check my site rank for the keyword
It also has a brainstorm function if I need new ideas
Competitors keywords and meta descriptions
I'll show you what I mean by using the keywords "How to blog."
From the results I can see that I don't need to waste my time writing content on "How to Blog," since the red light tells me it's very competitive and I've got a 7/100 chance of ranking for it. My time would be better spent elsewhere (where the green lights are). Again this is only a partial list.
Look at the "How to blog tutorial" no competition at this point and I have a 95/100 chance of first page ranking.
If I wanted to start a new niche or purchase a domain, I've got several options there if I wanted to go that route. The brainstorm function gives me some ideas as to what people are also looking for and I can further investigate that for more targeted blog content as well.
If I had no idea what I wanted to write on specifically, then I could always use the "Alphabet Soup" feature. This would give me alternatives to target for content. Check out the example below, using the keyword "Blog."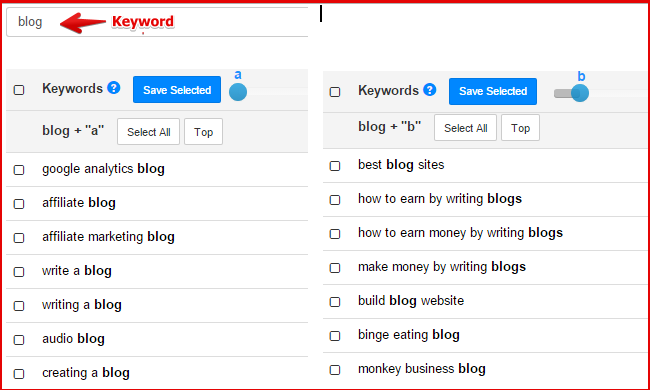 Here, I've got several alternatives to consider for the keyword "Blog." I can now plug these into Jaaxy, check out the competition, for any or all of these suggestions. Basically, You're never out of ideas with Jaaxy.
That's why Jaaxy is my preferred keyword search tool. It's quick, easy, and very affordable and if you want to use it for FREE you can do that as well. I use the Pro version.
As previously stated, keywords can sometimes be competitive and if you don't know just how competitive your chosen keyword is, it can make your efforts useless and that's not what you want. I can even use Jaaxy to check for my competitors, meta description and the keywords they used, to get rankings.
Like I said, to be more successful, a keyword search tool is absolutely essential to get your spanking blog content ranking and banking! If I were you, I'd definitely give Jaaxy a try.
If you look at the tool below, you can actually see live searches being done. That just means more ideas for you!
In a nutshell, a keyword search/research tool gives you information related to:
What people are searching for online (keywords)
Competition for keywords
Ideas for blog content
So that you can create more targeted content to ensure rankings, traffic, and sales.  Get your spanking blog content ranking and banking!
Give Jaaxy a try and let me know how what you think and if you have an alternative that covers as much as Jaaxy does or more, I'd also like to hear about it.
Always good hanging with you.
Take care.
Vanessa