Sometimes keywords can be very competitive So How To Tell If A Keyword Is Good? If you can't tell whether your chosen keyword is good or bad, then I think you will agree with me that you are about to waste your time penning that post on that particular keyword. This suggests that having a good keyword tool is absolutely essential to ensure that your targeted keyword is attainable. Especially if you're all about SEO ranking.
How To Tell If A Keyword Is Good?
Now, some people are of the opinion that you don't need a keyword tool, but I absolutely disagree, especially if you are now starting out online. A good keyword research tool can give you that much needed guidance, since without it, you are basically blogging in the dark. What sense would it make if your objective is to get your post/article ranked and be seen and you don't have proper guidance?
The more competitive a keyword is, the harder it is to rank. That means very little or no traffic at all for that blog post. For example, if you wanted to write an article on "Make Money Online" and you had no idea how competitive that keyword was, but you went ahead and did your article anyway, well… what would you expect for the result?
You most likely would be hoping that at some point it might get a bit of rank. Well, sorry to say, but you most likely would have been hoping in vain. That's why you need a keyword tool; so that your hard work would not be in vain and that you would see the fruits of your labor. By the way, the keyword "Make Money Online" is very competitive.
How To Tell If A Keyword Is Good: Step 2
A Good Keyword Research Tool is important.
There are a number of keyword research tools out there, however my personal preference is Jaaxy and I'll show you why in a minute or so. Now I don't know what's your experience with keyword research tools but I'd love to hear about what you use and how it's been working for you, if in fact it's been working to your satisfaction.
For me, the key information I want from my keyword tool is the competition. Because that little bit of information is going to tell me whether or not my selected keyword for my article is GOOD or NOT. Once I KNOW  what the competition is like, then I can make a much more informed decision to use or not to use the keyword in question, or find an alternative or a variation.
Another great thing about using Jaaxy, is that I don't have far to look for variations or alternatives if my chosen keyword sucks. 🙂
So let's dive on in, shall we?
How To Tell If A Keyword Is Good: Step 3
Know the level of competition.
All you need to know is the level of competition for that particular keyword. In other words, you want to know, how many competing pages are already out there in the search engines with the keyword you want to work with. To ascertain this, I don't want local information but preferably global information.
Targeting global information allows me to cater to a wider audience. A wider audience means more traffic and more traffic means more sales. I don't know about you, but that sounds like a pretty good plan to me.
So check this out.
Below is a snapshot of Traffic Travis, which is the keyword tool from Affilorama. The keywords being searched for is "SHOES," "BUY SHOES," etc.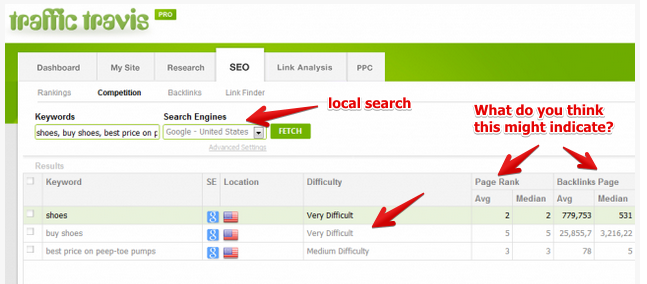 What do you think about the results? Easy enough to interpret and work with?
Now this search was done some time ago, so I anticipate that the level of difficulty would have increased somewhat. However, as you can see from the results, a would be very difficult for a post or article to rank for the first two keywords. But look at the third one (Best price on peep-toe pumps), the difficulty level is medium.
So, the first two keywords are definitely not where you want to venture since the results suggest that it would be very difficult to rank for those keywords.
But my question to you is this.
"Would you even want to try the third option, the medium difficulty?" What exactly does that mean? What exactly are the chances of ranking for a potential post or article with this keyword that has a medium difficulty rating?
How To Tell If A Keyword Is Good: Step 4
Easy to use keyword tool.
In all honesty, I know people use Traffic Travis as their keyword tool of choice and that's fine. But it's not my keyword tool of choice for several reasons:
I like my information simple and to the point.
If you notice, the keyword search is local. That's fine if you want to limit yourself to local marketing.
There is much more potential for outreach with global searches as opposed to local searches, and
I am not interested in downloading any software. Yep, if you want to use Traffic Travis, make sure you've got the available space on your hard drive.
That aside, here's what I did.
Since you want to be able to ascertain just how good your keyword is, I put two of the keywords used in Traffic Travis into Jaaxy, so you can see for yourself, how quickly and easily you can find out what your competition is for a particular keyword and much more.
Free Keyword Tool: Jaxxy In Action
Check out the results for the keyword "SHOES" in the snapshot below.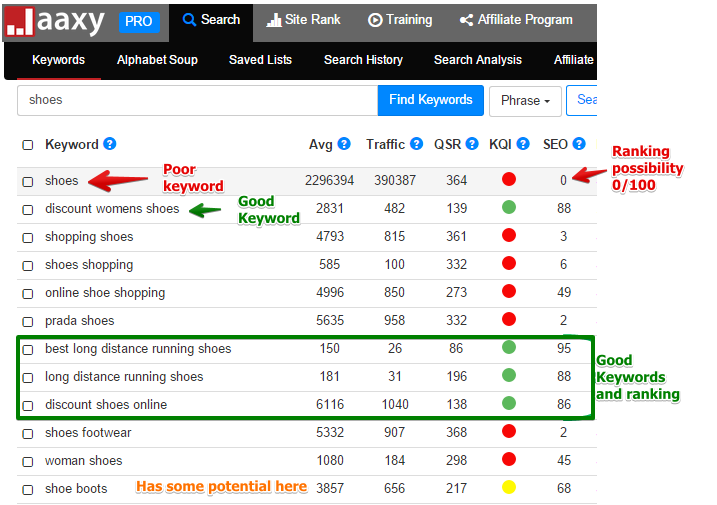 Notice the green, yellow, and red indicators in the KQI column? Anything with a red circle, don't even bother. The yellow circle you still have some potential there. The green circle, that's where all the good keywords are.
Let's look at the chosen keyword "SHOES." There is a red indicator light and the SEO column indicates that there is a 0/100 chance of ranking for the keyword. This is much more specific, don't you agree? Right away you know, don't even venture in that direction because it's not worth the time or effort.
Did you notice, that that's not all Jaaxy did for us?
Not only did we get global searches, potential traffic, but we got additional keyword options to use, as indicated by the green circles. There are 4 viable options within this list. Hey, and this is not the entire list.
In a nutshell, using Jaaxy, the keyword "SHOES" was not a good keyword, but we got some alternative keywords to use. As you can see, Jaaxy is not as limited as Traffic Travis and it cuts down on the time needed to do the research. This was as simple as typing in a keyword in the search bar, and clicking on the "Find Keywords" tab and out came the desired information.
Let's check out the Jaaxy results for the second keyword "BUY SHOES."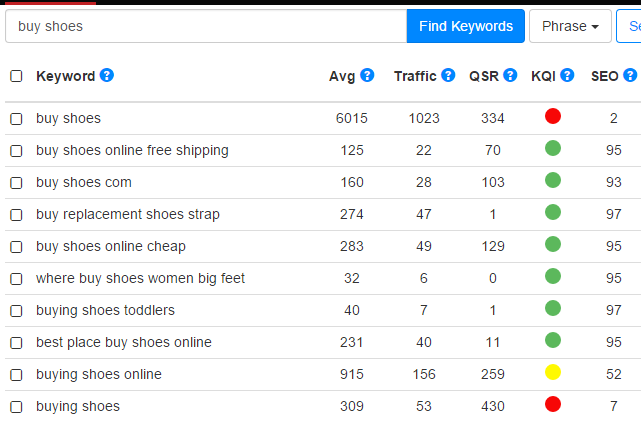 It would seem that "BUY SHOES" is not a good keyword either but check out all those green circles!
They are all viable keyword options (again, this is a shortened list).  The traffic may be small, but if you look at the SEO column, you've got a 93/100 and above chance of getting ranked for those keywords. Now you know what keywords to place your effort on.
See why I like Jaaxy?
There are 7 great keywords and potential blog posts within this one search, even though the original keyword "BUY SHOES" is not a good one.
How To Tell If A Keyword Is Good: Step 5
Create a free Jaaxy account!
Well, if you want to get a jump on the competition in the search engines and make it easy to get the rankings your posts/articles deserves, then proper keyword research is a must. I would definitely suggest you give Jaaxy a try for yourself. Not because it's my preferred tool and I am absolutely bonkers for it, but the fact that YOU can get so much more out of Jaaxy.
I barely scratched the surface concerning all the available features and functions of Jaaxy. All I did was use Jaaxy to show you how you can tell whether a keyword is good or not.
I think, what's even more important for you to know is that you can get 30 Free searches to start with. Think about this for a minute.
If I found 7 viable keywords in one search (and that seven is limited, since I did not print the entire list), what's the potential for you with 30 Free searches? Think about it.
That being said, I've included the tool below, so that you can try it for yourself. No strings attached, no obligations of any kind. If those 30 free searches aren't enough, you can check out how you can keep using Jaaxy absolutely free.
Look at the tool for just a second. You can actually get ideas for keywords, simply by looking at what was just searched. Oh my goodness.
Hey, I hope this post was helpful and if I can help you in anyway, feel free to drop me a line in the comment section.
Before I go, remember, I said that the keyword "Make Money Online" was competitive? Thought I'd show you just how competitive it is.

Just keep in mind that to make sure that your target keyword is attainable, you should definitely invest in a good keyword tool for your online business.
It was cool hanging with you. Remember I want to hear about your experience with keywords and tools, so drop me a line. Cool? I'm looking forward to hearing from you.
Vanessa