Understandably people are looking for opportunities to make money from home. But 30 Day Success Formula is definitely NOT an opportunity to do that.
If you were taken in by fraudulent scheme of referred to as the 30 Day Success Formula, that's' unfortunate. If you haven't but you are looking to find out if it's a viable online opportunity or not, then it's NOT. The BBB has issued a 30 Day Success Formula scam alert.
According to the BBB, more than 150 consumers have complained in the last five (5) months, about this Wisconsin based business. The BBB further stated that "consumers nationwide have lost tens of thousands to this company." Actually, their total losses combined exceeds $150,000.
When you read this article, it's easy to understand why 30 Day Success Formula has an F rating with the BBB and why the scam alert was issued.
Here's another interesting tit bit that the BBB has unearthed about this scam. The business has three (3) Wisconsin addresses; Oak Creek, Kenosha and another in Mt. Pleasant. However, they are all rental boxes at UPS Stores. So clearly, these people don't really want to be in contact with you or you with them.
My guess is, these individuals would just get themselves another P.O. Box to keep this scam going as long as they possibly can.
Understanding the 30 Day Success Formula Scam
When people say to you that they can make you rich quickly and you have no idea how that will happen, that's a red flag. If the plan is to make money by simply recruiting others, as opposed to offering a product or service, then that's a pyramid scheme.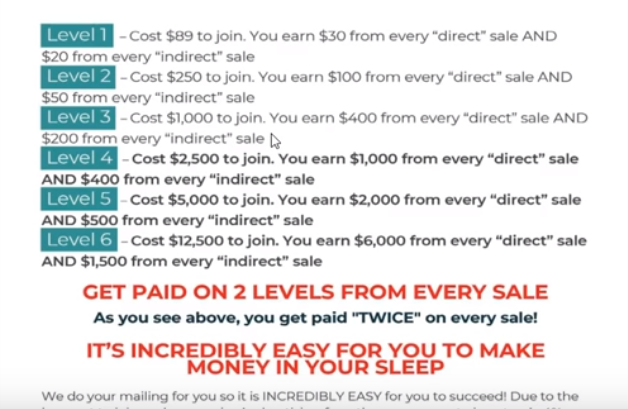 The individual or individuals running this company promised consumers that they would earn thousands of dollars upon becoming a member for a fee. But the only "product" they received when they joined 30 Day Success Formula, was a flyer that they could use to recruit others into the program. Crazy right?! That's a pyramid scheme.
When you think about it, 30 Day Success Formula is similar to MOBE and Empower Network. They are all hype and no substance. However, there's a slight difference. According to one complaint, they were taking cash only via the mail. Can you say SCAM alert?! It brings to mind, the make money stuffing envelopes scam. Yes, in case you did not know, that too is a scam.
Members were also promised that if they did not receive their initial investment back within 90 days, they'll receive a refund. Yeah, right. They're going to return the cash you sent to them. That is so NOT happening!
I'm sure these individuals did not even get a receipt from the person they sent their cash to. According to the complaints, the promised refunds were never issued. Simply put 30 Day Success Formula is a pyramid scheme masquerading as a multi-level-marketing (MLM) company.
What is a Pyramid Scheme About
Pyramid schemes have been around a long time and are totally different to legitimate multi-level marketing (MLM) companies like Amway, Pampered Chef, and others. These pyramid schemes are unsustainable, illegal and are based on network marketing. The focus is on making quick money or profits "by selling the right to recruit others."
People operate these schemes by getting the money upfront and there is no real product or service being sold or offered. When the supply of new investors or recruits dwindles, the pyramid collapses and participants lose their money. It's really all hype to get you to become involved. The financial returns sound good but it's really a ripoff.
Making Money Online is Simple
If you have the right training, mentor, and community, it's actually easy. Click below and you can get all three!
Complaints About 30 Day Success Formula
Despite their address being in Wisconsin, complaints about 30 Day Success Formula come from far and wide. According to the BBB, there have been complaints from consumers in 38 states, including Puerto Rico. It is reported that customers lost between $89 and $12,500 each.
None of the customer complaints have been addressed by the individuals who are running this company. Nor has anyone from 30 Day Success Formula made an attempt to correct the pattern of complaints or respond to the "BBB's request for basic information to substantiate the claims made on its website."
Melinda, a complainant from New Jersey, wrote to the BBB, "I didn't realize until after joining that it's just a pyramid pretending to be a real MLM company. They don't offer real products. Only accept cash via the mail. They do not allow credit cards or anything else that may help you get your money back. Since I gave them cash I am out of the money. I want to warn everyone about them."
Now I think that 30 Day Success Formula purposely avoided using credit cards to avoid refunding customers their money. Several individuals complained that "they were required to send cash via overnight delivery when they joined."
This just gets crazier and crazier. But what is also alarming is the fact that people are falling for this scam. Please STOP sending your money to these people. If you want to see first hand how to make money online, then click on the link below to watch the simple video.
30 Day Success Formula Scam Alert!
Due to the complaints and the lack of cooperation by the company, the BBB issued a 30 Day Success Formula scam alert. Check it out below.
"Don't be fooled by this company's empty promises," said Jim Temmer, president/CEO of the BBB Serving Wisconsin. "The only people making money are the people behind 30 Day Success Formula."
I absolutely agree with that statement for sure. This is their 30 day formula for their own success, not anyone else's.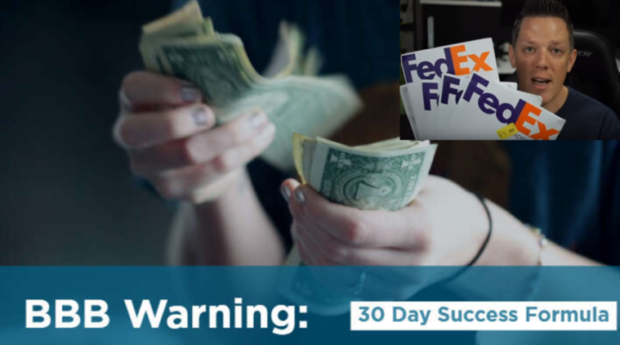 Many complainants state that they heard about the company through social media posts and advertisements, including endorsements from social media influencers. The company's online BBB profile has been viewed more than 5,600 times since March 2019.

BBB.org
The sad thing about this is that some people really don't care how they make their money.
Justin, from Nebraska, wrote in his complaint, "I have been a member with 30 Day Success Formula since March 30, 2019.  I joined at Level 5 for $5000 and purchased 1000 flyers for $1338. The company advertises that they will mail out 500 flyers on your behalf and there is a money-back guarantee if you do not earn the cost you paid to join after 90 days… I myself purchased 5000 leads, printed and mailed flyers which cost over $5000…We have not seen a dime and have over $10,000 in this."

BBB.org
If you or anyone you know are a victim of 30 Day Success Formula, then make sure to file a BBB complaint. 
BBB Tips to Avoid Scams
BBB actually offers several tips to consumers about how to spot the red flags of an illegal pyramid scheme. Here re a few you should be aware of:
Exaggerated claims of earnings when there is no real product or service.
Commissions come solely from recruiting members and there is no product or service involved.
Organizations that boast that they have a secret plan or overseas connection that cannot be verified.
"Any plan that delays meeting its commitments while asking members to "keep the faith." Many pyramid schemes advertise that they are in the "pre-launch" stage, yet they never can and never do launch."
You can always check out the BBB for more tips.
Finding the right opportunity
In all honesty, making money online is simple. However, when it comes to finding the right online opportunity to do that, research is your best tool. Here's a summary of a few steps suggested by the FTC:
"Find—and study—the company's track record."
Learn about the product/service being offered.
Ask questions; lots if you have to.
Understand any restrictions. Sometimes we can be lazy about this.
Talk to other people involved and beware of shills.
Seek out independent opinions; "a friend or adviser as a neutral sounding board, or for a gut check."
Don't rush into anything; take your time. That's what I did before I got started online with Wealthy Affiliate.
Think about whether the opportunity suits your talents and goals.
If you want to make money from home, this sort of scheme is not the way to do it. Signing up for something like 30 Day Success Formula is a good way to ensure you lose your money. Don't fall for the exaggerated get rich quick claims. You can do much better with your own affiliate marketing website or drop shipping store.
Hey, remember to share this article and help us spread the word about this scam.
Making Money Online is Simple
If you have the right opportunity, training, and community, it's actually easy. Click below and you can get all three.