Want to learn how to set up a free blog site?
Check this out to learn how to set up a free blog site to make money online? In this post I'll show you how you can do that and how you can start earning extra cash from the comfort of your home, if you're interested. So let's jump right in shall we?!
How To Set Up A Free Blog Site – 3 Simple Steps
This begins with an idea for your blog
Think about what you want your blog to be about. For example, music, writing, parenting, sewing, fishing, entertainment, news, a special cause, something educational, or are you simply interested in sharing your opinions with the rest of the world. As you can see, your blog can be about anything you want it to be and once you have an idea about what you want to do online, then you are on to step 2.
Step 1: Name Your Blog!
Think about a name for your blog. For example, Jim's Fishing Tips, Maggie's Music, Sewing With Susan or My Cool Site. These are just examples you can use as a reference for a potential blog name. Ever heard about Buzz Feed or Mashable? You can also come up with a cool name like that as well.
Once you know what you want your blog site to be about, you can start the process to get it set up.
Step 2: Create Your Blog Site
The process of creating your blog site of website, is a simple one. The longest part of the process is really choosing a theme you like (LoL).  But I've included a link that you can use to see how easy it is for you to actually create a blog site free.
Simply enter the name of your potential blog in the tool box below, choose a theme and watch in amazement as your free blog site gets built before your very eyes in less than a minute. Once it's done, you'll see the extension Siterubix.com since that's the extension that indicates a free website. That's it!
Try it and you'll see.

Step 3: Create Content for Your Blog Site
All you have to do now is start producing (writing) content for your blog, which you can share with others via social media and allow your readers to post comments on whatever you write (your posts).
How to Earn Extra Cash Your Free Blog Site
---
At the beginning, I said I'd share with you how you can extra cash with your free blog site, so here goes. Now there are several ways in which you can do this but I want to keep this simple, especially if you are now starting out as a blogger.
One thing you want to keep in mind is that you should spend some time filling out your blog site with content before monetizing it. Since you want to make sure your readers encounter a site that's worth visiting.
In that respect, prepare yourself to put in some time with your new blog site before you receive something back.
A Few Ways to Monetize Your Blog Site
AdSense ads or other advertising programs
Join Affiliate programs, for example Amazon
Build an email list
Create your own product for sale
For this particular post I'll deal with option #2, since I think it's the easiest for a beginner blogger and affiliate programs are easy to find. Keep in mind that you want to select an affiliate program that is appropriate to what your blog is all about.
For example, if your blog is about sewing, then you want to find affiliate programs related to sewing so you can simply type into Google: sewing + affiliate program.

Notice you've got several different affiliate program options to choose from; sewing patterns, sewing supplies and sewing. Click on anyone of those to see what's available.
The results below are just a few for the category "sewing affiliate programs."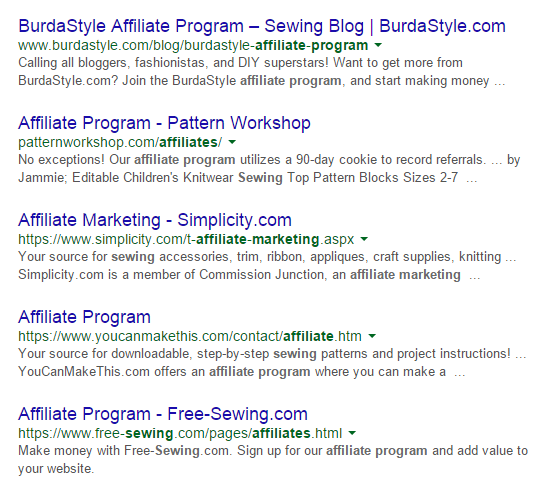 Clickbank and ShareaSale are also great affiliate programs where you can find quite a number of products that would complement your blog. Just to mention a few.
If you are interested in another make money niche, then check out Wealthy Affiliate, where you can find fantastic training to make your blog or website a success.
Wealthy Affiliate also has an affiliate program, so that you can earn while you learn. Earning while learning sounds like a good plan to me. What do you think?
As you can see, setting up your Free Blog Site is a simple process and this simple process is one that can earn you extra cash from the comfort of your home. That's the beauty of the internet.
Review: How To Set Up A Free Blog Site
Set up your free blog site
Spend some time building content
Share your content
Choose a complimentary affiliate program to monetize your blog
Interested in getting started online and making some extra cash?
Then why not learn how to do that the right way.  Access free affiliate training by simply clicking on the link and get started today absolutely free.
Vanessa