Blogging is a great way to make money online, and the beauty of the internet is that you can blog about anything, topics range from sports, entertainment, recipes, motivation, inspiration, absolutely anything or area of interest you may have. The key though is blogging about something that you have an interest in or something that your are passionate about. In this post I'll share with you the things you need to do to start blogging and make money.
Since you need to have a website, here are the three simple steps you need to follow before you begin blogging:
Select your area of interest (your passion, or niche), whatever it is you think you would be interested in blogging about.
Choose a domain name. That is simply a name for your site.
Set up your free website. Check out the video to see how easy it is to set up your free website, using these three simple steps.
Once you have built your website, then you need to get it up and running. The video tutorial below shows you how to do exactly that.
Now that your website is up and running, you can start blogging. So I've shared with you how easy it is to get started but I also want to share with you some of the challenges and how you can overcome these challenges. Cool?
First things first, keep in mind this is your blog and if you intend to make money with it, then there are a few things you need to do to make it successful. In making your blog a success, here are a few challenges below you might encounter.
If you don't like writing this can be a challenge for you, but you can overcome that by simply making the effort to write or you can hire writers. But before you go hiring writers, not that that's a bad idea, it's just that I have seen people who have had this writing challenge but they've been able to overcome it simply by making the effort and getting help when they needed it. There are two factors that encourage them to try despite the fact that they may not be good at it. One is the fact that they love what they are blogging about and two, it provides the opportunity for them to make money online.
Finding new ideas to write on to keep your blog current and fresh. Sometimes you might be at a loss for an idea or two to blog about but even in your blogs there are ideas you can expand on. Additionally, you can get ideas using Google's Alphabet Technique, Google trends, or a keyword tool like Jaaxy. These are just a few options.
Another aspect we need to address is, now that you've started blogging how do you actually make money? In other words, how do you monetize your site? An effective way to do this, is by joining affiliate programs that would compliment your blog.
For example, if you are blogging about sports, then you can access sports affiliate programs and include the links on your site. Affiliate programs are often free to join. I use the word often because there are some that charge you a fee. They might be a few, but I'd stay away from them all the same.
To find an affiliate program simply type in what you are looking for and affiliate program. For example, type in the words sports + affiliate program. check out the results and select the ones that you are interested in. Complete the sign up process for the program or programs you want to join, and insert the corresponding affiliate links on your website.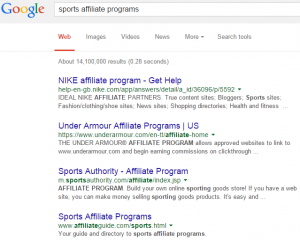 The process is simple and it's recommended that you blog frequently to facilitate posts and site rankings. Joining a few forums as well as promotions can also be very helpful in this respect. You want to get rankings so that visitors would come to your site and not just read your posts, but also click on the affiliate links and purchase or sign up for something, from which you would earn a commission.
Once you have visitors (traffic), you have a business on your hands. So you have to think accordingly, because you became an entrepreneur with your blog, so that's the kind of mindset you need to have to make your blog successful. As such, you should also do a bit of promotion and you can use social media to do that.
Let's just do a basic review concerning what I've shared with you in this post thus far.
The three basic steps to set up/build your website
How to get the site you built up and running
How to overcome the challenge of writing
Finding ideas for your blog
Finding and selecting affiliate programs to compliment your blog
Promote your blog by generating traffic by blogging frequently and using social media
Make money when visitors click on your affiliate links
What else would you need to make money blogging?
A keyword tool that would allow you to do effective keyword research as well as give you information concerning your competitors. My recommendation for that is Jaaxy 2.0. Jaaxy does not only help you find keywords and its estimated traffic, but it also gives you competition analysis so you can see what your competition is doing and so much more. To learn more about Jaaxy and how to use it for free you can click here.
My final words to you.
Blogging is a great way to make money online and to ensure your blogging venture becomes a success, especially if this is new territory for you, you want to make sure you get the right training, tools, and the help and support you need to do exactly that. That being said, I'd like to introduce you to the online community from which I get all of the above including help and support 24/7.
Some of the tools available to you would include 2 free websites and hosting, a keyword tool, free lessons to get you started and all the way to achieving success with content creation and so much more.
I hope this post has provided you with some insight into the world of blogging and how you can make a success of it. Please feel free to leave me a comment or if you have any questions, I'd be happy to address them for you. Additionally, you can always touch base with me inside the community as I would be happy to help you get your blog started for free, so that you can start making money.
To your success always
Vanessa